How our customer comment One Storage? | Mini storage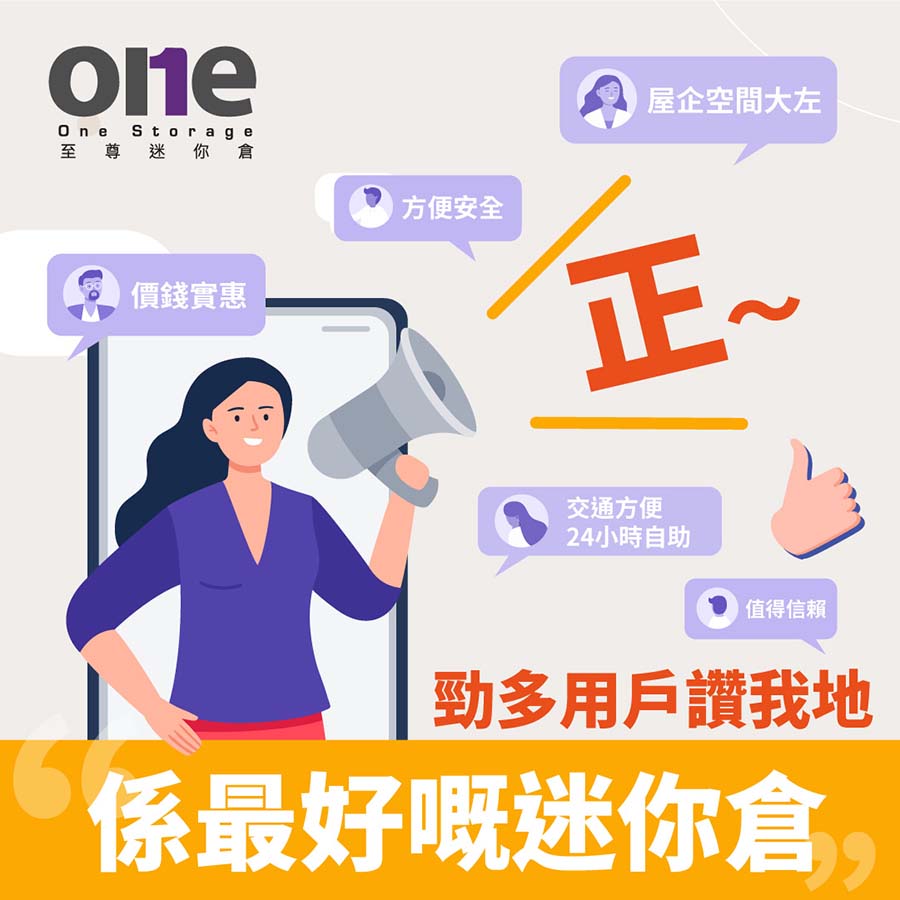 Is One Storage Good?
Let's see how our customers review us, you'll see why One Storage is your choice.
小豬腳遊世界 Littlepiggyfeet
Some of the tools, bicycles and other utensils that I used up a little while ago in my home are not , so I started my journey to find a mini-warehouse! The most important thing for me is the convenience and safety of renting mini storage! I made an appointment to see the storage at One Storage and then rented the storage instantly, the procedure was simple!
"The most important thing is convenience and safety. "

爸爸之選 Father's Choice
One Storage is a mini storage with convenient location and reasonable price. Once tried the photo album yellowing, at the same time a lot of dust, put it into the warehouse on the most suitable. I feel more comfortable and have more space in my home.
"I feel more comfortable with more space."

Blogger 廖錦濤 Matthew
There are many treasures that I want to leave behind, but I don't have space at home. There are different sizes for me to choose, I chose 14 square feet are very wide, absolutely have enough space to put things. The mini-warehouses are guarded by staff, so you can ask them directly if you have any questions!
"One Storage helps me keep my treasures well!"

安琪拉的生活日誌 ღ Angela's LifeStyle
If you allocate to a new house, you will need a reliable mini storage too with good service and good price. Once I visit One Storage myself ..... It's really a reliable mini storage and rest assured.
"One Storage has good service and reliable."

月雨小屋
My house is filled with souvenirs, and I've found One Storage is great for keeping my beloved souvenirs safe! When storing souvenirs, you should pay attention to the temperature. One Storage keep them in constant temperature air conditioner, no worry about humidity!
"Constant temperature air conditioning, keep your beloved souvenir treasures safe"

Horuru beauty
I have keep so many treasure since my childhood, it's easy to break them at my home when cleaning up, So I decided to get a good self storage for them. One Storage has a variety of different sizes of independent mini storage to choose from. Each storage space is equipped with reliable air conditioning system so that the collection is not affected by humidity or temperature changes!
"Many different sizes to choose from"

彤彤與昕昕生活手記
Sometimes there are a lot of things you need to keep but not need to be around, especially there is really no space at home, I really do not know how to do, luckily I turned to One Storage mini storage which solve the problem. The most important thing is that the price is cheaper than expected, also neat and clean!
"The price is better than I expected, One Storage is neat and clean!"

男神媽媽生活誌
Affordable price, clean and hygienic! Professional customer service team is thoughtful for us and give professional advice! We got one store to considering, once we visit we were so satisfied and sign it up immediately, my son was more than eager to move some boxes here!
"One Storage with affordable price, clean and hygienic!!"

JAMM Channel 小足跡大世界
我哋最近搵到屋企附近嘅【One Storage 至尊迷你倉】 上去睇過環境,感覺乾淨企理,價錢優惠!大家都明白香港嘅土地問題,迷你倉嘅出現真係幫到好多人!
"幫到好多人嘅土地問題"

四月媽媽手記
To keep the house spacious, we decided to look for a self storage for our rarely used items. Location is the most important factor for us, it got to be nearby otherwise it would be inconvenience. One Storage's self storage network is all around Hong Kong, easy access with traffic nearby, 24 hours access with good security. Just few hundreds dollars monthly and you can rest assured, really a great choice for us.
"Easy access and 24 hours self storage."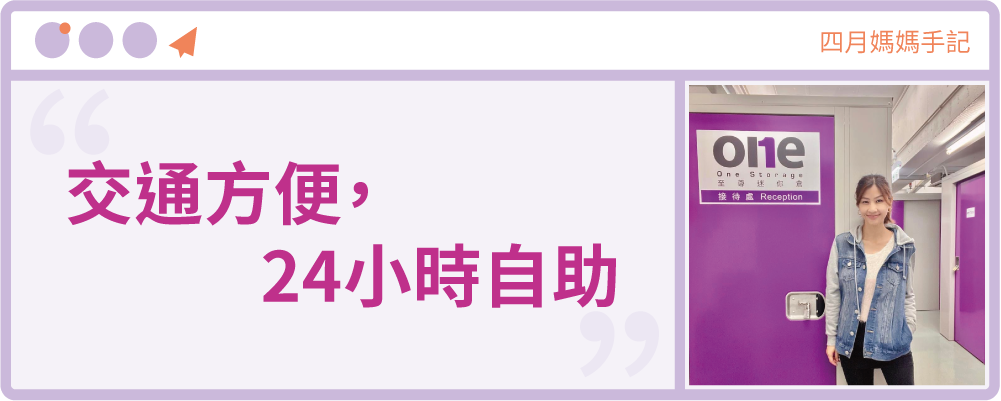 Dorian B 分享小站
I learnt about One Storage, 5 minutes out of the MTR station! I have got my reservation to visit easily!
"Just 5 minutes nearby MTR station"

菇喱屋
I don't want to throw away my beloved stuff easily but the house is running out of space. So I picked One Storage to keep my things, best way to restore my space at home.
"Best storage to restore my space at home."

鈴。距離
If you just like me, need a space to keep the seasonal clothes, small storage in One Storage are enough to me! I don't have to be afraid of complaints from my family anymore.
"Even small storage in One Storage is enough to keep my seasonal clothes"

攪事2人組。大佬弢。圯家姐
Things with commemorative, or useful value and can not be thrown away, so I go online to find the next packing inspiration, than I see One Storage mini storage. It helps me to clear out more space at home, so that is more space at home for online classes of my kids.
"One Storage helps me restore space at my home"

Mini Bubble Corner
After visiting the One Storage, it is the best among my storage choice! The area is large, the corridor is quite wide and airy, the decoration is new and clean, and it's easy to move around!
"The corridor is wide and clear, and the decoration is new and clean!"

Thank you for your support, we will continue to strive for perfection!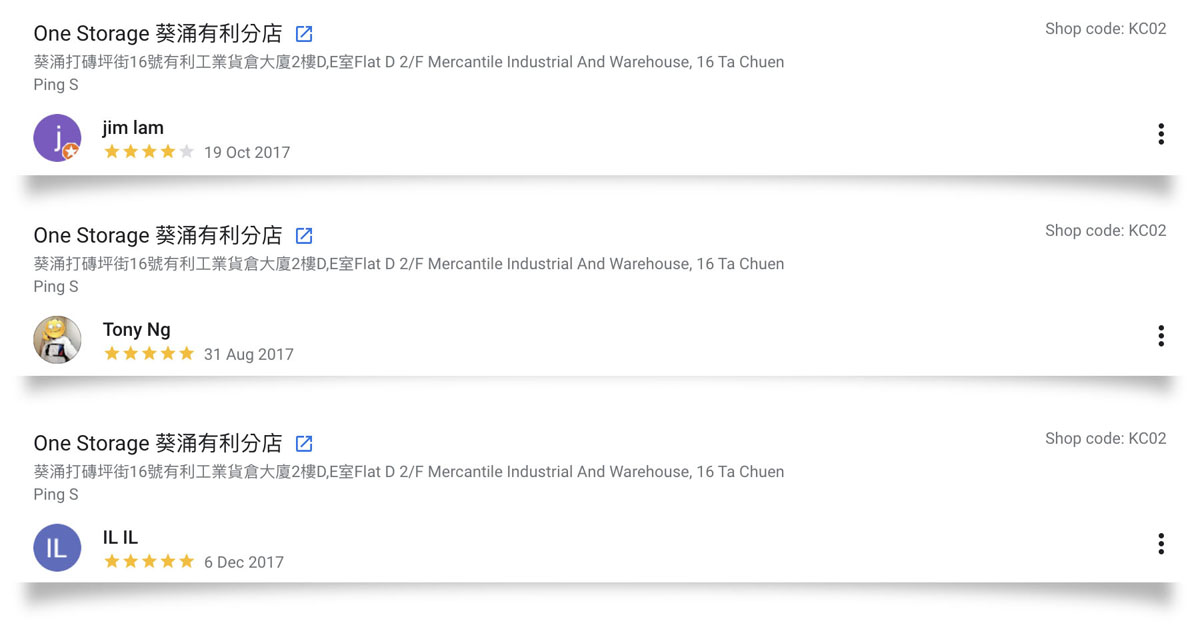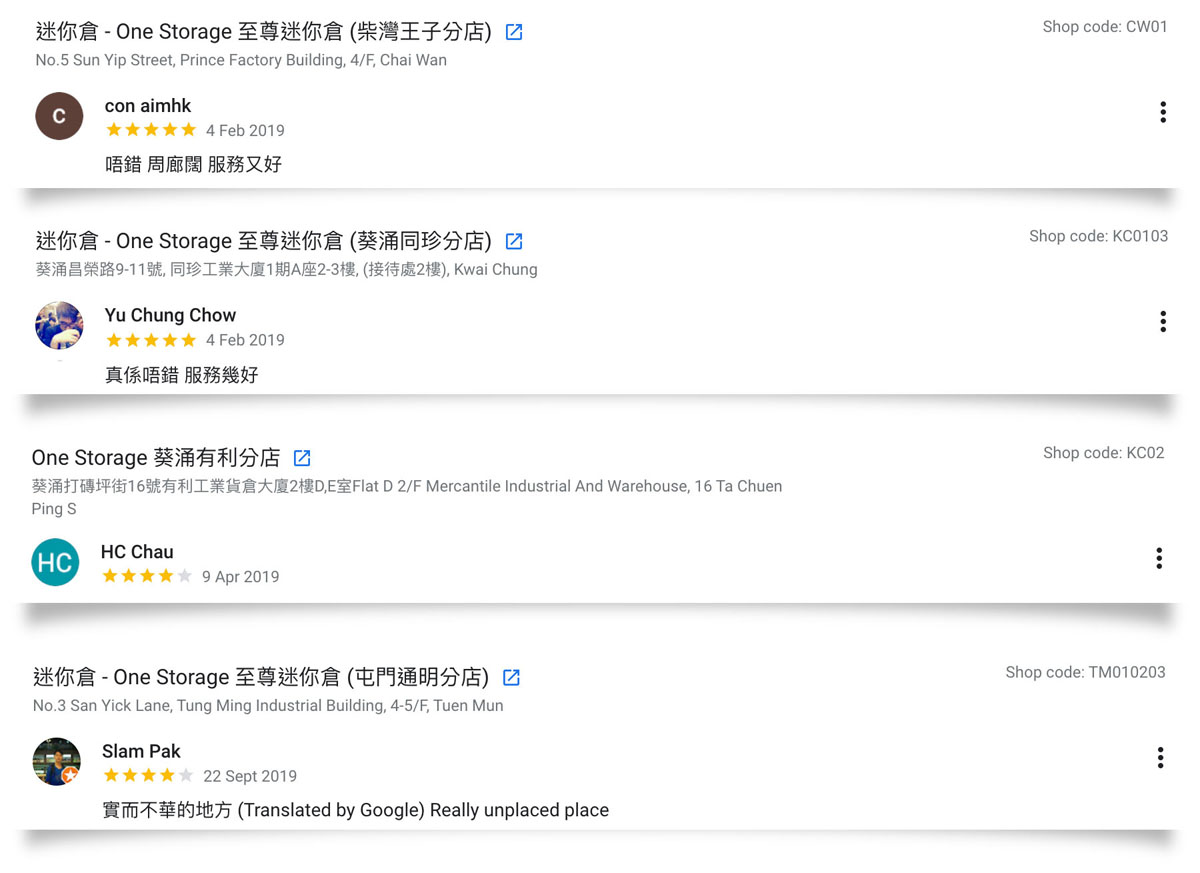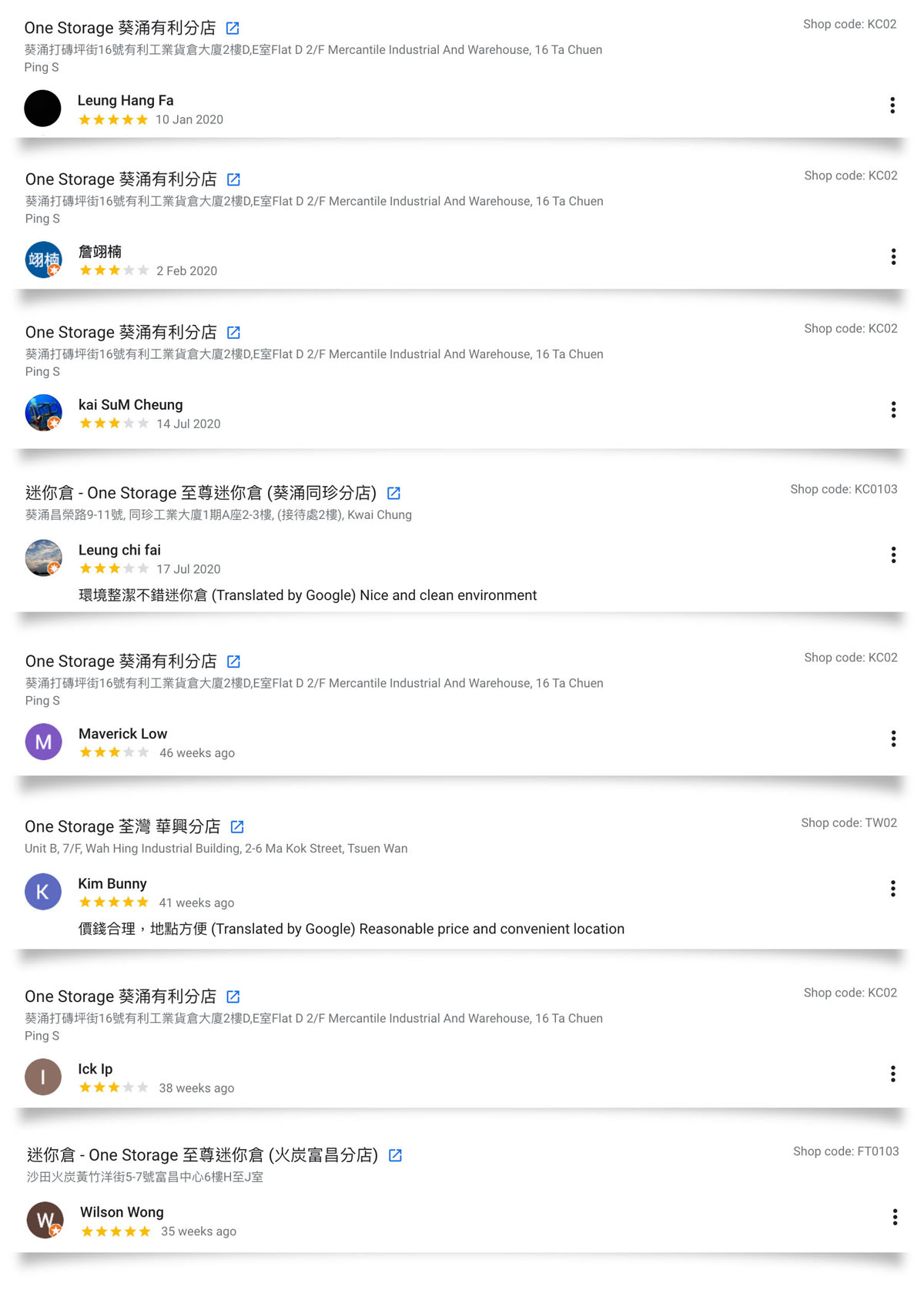 -------------------------------------
Click to check our latest offer now
Talk to us: https://m.me/onestorage
-------------------------------------
✅ 24-hour easy access at any time
✅ 7x24 smart security access system
✅ HD security monitoring and alarm system
✅ Comply with latest Fire safety guidelines
✅ Constant temperature air-conditioning system
Hong Kong Island:
Siu Sai Wan | Chai Wan | Tin Hau | Kennedy Town | Wong Chuk Hang
Kowloon:
Yau Tong | Kwun Tong | San Po Kong
New Territories:
Kwai Chung | Kwai Hing|Kwai Fong | Tsuen Wan | Tsing Yi | Fo Tan | Tai Po | Tuen Mun
Express Whatsapp: https://cutt.ly/51188503