Organize your home & your school bags! Four key points for schoolbag sorting! |One Storage|Mini Storage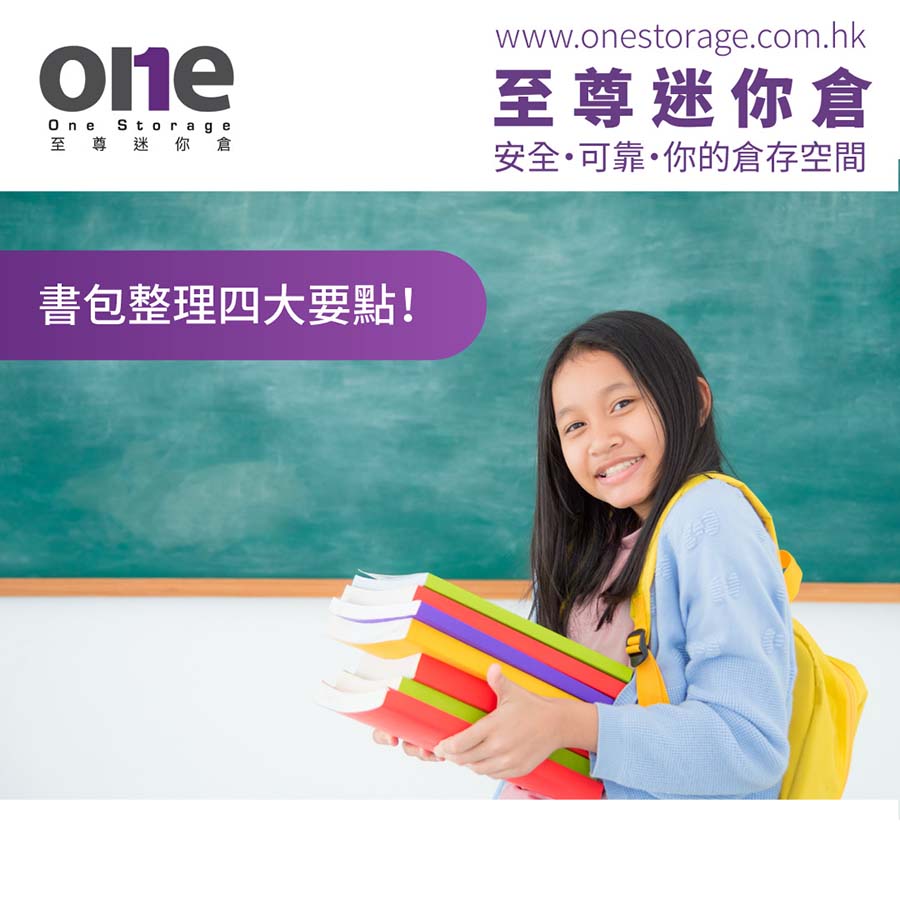 I don't know how you packed your schoolbags when you were young? I am a person who is very afraid of trouble. In order to avoid taking mistakes or missing things, I often put everything I need into my schoolbag, and then I carry this schoolbag that is as heavy as a mountain every day to go to school. .
Thinking of it, this is really a bad habit. If you have children, how will you teach and help them organize their schoolbags? Our One Storage Supreme Mini Storage has four main points to remind you!
Do a good job classification:
Schoolbags contain not only books, but also stationery, notices, sportswear and other different items, which must be classified. Some easy-to-lost papers and notices can be put in a file bag.
Placement order
The capacity of the same schoolbag, organized and placed randomly, can vary greatly. Items such as book thins can be placed flat against the back of the schoolbag, and other items such as paper towels, stationery, and jackets can be placed in other compartments.
Pack the items to the same place
Avoid letting children develop the habit of putting things everywhere, and it is best to teach them to put away items that are not in use temporarily to reduce confusion and loss.
Check school bags regularly
It is not difficult to organize the day well, but after a long time, children may not necessarily have patience. Parents can check the schoolbags regularly to remind children of the importance of neatness and order.
Why is it so difficult to teach children to organize in an orderly manner? In fact, it is not just children, adults should lead by example. If the home is in chaos, how can children understand the importance of orderliness?
But there are really too many household clutter, and thinking of tidying up has become a fantasy? Find our One Storage supreme mini storage helper!
One Storage Supreme Mini Storage has nearly 30 branches, and the transportation is convenient! Strictly comply with all fire protection regulations and regulations, so that customers can feel relieved and assured. It can also be withdrawn 24 hours a day, so there is no difficulty in withdrawing or managing your own items anytime, anywhere! The One Storage Supreme Mini Storage has various sizes. With the space calculator provided on the One Storage website, families of all sizes have a budget!

Home clutter troubles you? Hurry up and grab the limited discounts of One Storage Supreme Mini Storage!

Now successfully register for 12 months to enjoy a special discount, plus 1 month of free warehouse rent*! 40% off 12+1*, hurry up and register for an appointment!

-------------------------------------
Kennedy Town | Tai Po | Chai Wan | Siu Sai Wan | Wong Chuk Hang | San Po Kong | Yau Tong | Kwai Chung | Kwai Hing | Kwai Fong | Tsuen Wan | Tsing Yi | Fo Tan | Tuen Mun
*Terms and conditions apply, please contact our staff for details.
*Terms and Conditions: Offer is subject to availability while stocks last. This offer is only applicable to new registered customers of Supreme Mini Storage. In case of any dispute, the decision of Supreme Mini Storage shall be final. Registrants have read this Disclaimer page and agree to the Personal Data and Privacy Statement and are willing to receive promotional information.