Mini Storage | This week's limited time offer in all districts: as low as 55% off/free 3 months
Release Date: 01-09-2021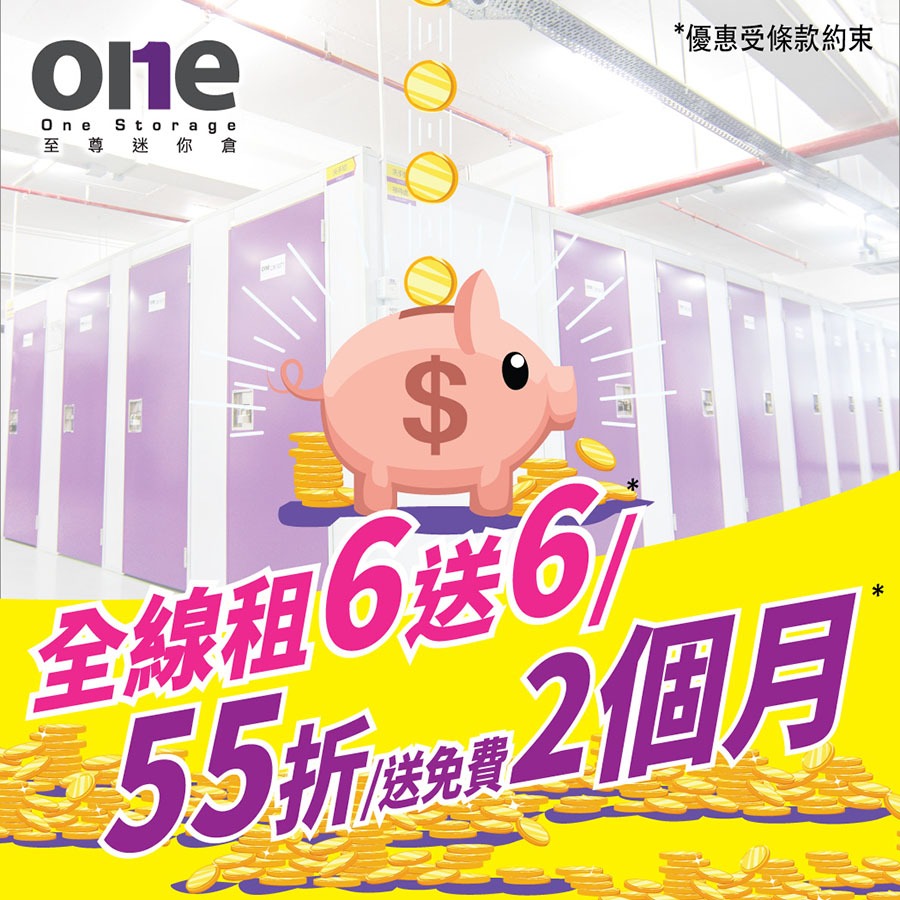 Mini storage in all districts, this week's limited time offer: as low as 55% off/free 3 months discount*
The space becomes larger immediately, and life is more comfortable from now on!

Limited Time Offer! Limited quantity, get it now
👉🏻

https://m.me/onestorage



There are not many popular offers left, only the following offers, which are super worthy of the mini storage, don't miss it!

👉🏻 👉🏻 Yau Tong District, Kowloon:
📍Extreme Mini Storage | Yau Tong Store
Address: Room A, 1st Floor, Wah Fai Industrial Building, No. 4 Sze Shan Street, Yau Tong

👉🏻 👉🏻 Xiaoxiwan District:
📍Supreme Mini Storage | Xiaoxiwan Senlong Store
Room B, 7th Floor, Sun Dragon Industrial Building, 11 Xin Yip Street, Chai Wan
Rent for 12 months with 55% off and get 2 months discount

👉🏻 👉🏻 Tuen Mun District:
📍Supreme Mini Storage | Tuen Mun Tong Ming Store
1, 4 & 5 floors, Tong Ming Industrial Building, 3 Sun Yick Lane, Tuen Mun, New Territories

📍Extreme Mini Storage | Tuen Mun Hoi Cheong Store
Unit A, 10/F, Hoi Cheong Industrial Building, 4 Ho Tin Street, Tuen Mun

👉🏻 👉🏻 Tsuen Wan, Kwai Tsing District:
📍Extreme Mini Storage | Kwai Chung Tongzhen Store
2/F, Block A, Phase 1, Tongzhen Industrial Building, 9-11 Cheong Wing Road, Kwai Chung

📍Extreme Mini Storage | Kwai Fong Meishi Store
Room B, 3rd Floor, Mei Sik Industrial Building, 1-11 Kwai Ting Road, Kwai Fong, New Territories

📍Extreme Mini Storage | Tsuen Wan Wah Hing Store
Room B, 7th Floor, Wah Hing Industrial Building, 2-6 Ma Kok Street, Tsuen Wan

📍Extreme Mini Storage | Tsing Yi Tsinggong Branch
5th and 7th Floor, Block D, Phase 2, Tsing Yi Industrial Centre, 1-33 Cheung Tat Road, Tsing Yi

👉🏻 👉🏻 Fotan and Dapu districts:
📍Supreme Mini Storage | Fo Tan Fu Cheong Store
Room H-J, 6th Floor, Fu Cheong Centre, 5-7 Wong Chuk Yeung Street, Fotan, New Territories

📍Extreme Mini Storage | Fo Tan Universe Store
Room AB, 3rd Floor, Universe Industrial Centre, 19-25 Shan Mei Street, Fo Tan

📍Supreme Mini Storage | Tai Po Taiping
Room A&B, 4F, Block 2, Taiping Industrial Centre, 55 Ting Kok Road, Tai Po

(The offer is subject to terms and conditions*)

Nearly 30 supreme mini-storages are available for picking, all in compliance with the latest fire protection guidelines:
Western District / Chai Wan / Siu Sai Wan / Wong Chuk Hang / San Po Kong / Yau Tong / Kwai Chung / Kwai Hing / Kwai Fong / Tsuen Wan / Tsing Yi / Fo Tan / Tuen Mun / Tai Po

Offer terms and conditions:
*Designated warehouse type and prepaid designated rent are required. The quantity is limited, and the price varies according to the area and the latest promotion. It is for reference only. The quantity and promotion period are limited, while the quota is full. Please contact us for details. Only applicable to new customers who register for the first time, and cannot be used in conjunction with other discounts. Supreme Mini Storage reserves the right of final decision.

Click here for express whatsapp:

https://cutt.ly/51188503


Website:

https://onestorage.com.hk/


Enquiry Hotline: 2111-2636