Squid game surprise! |Restore the original appearance of the home|One Storage|Mini Storage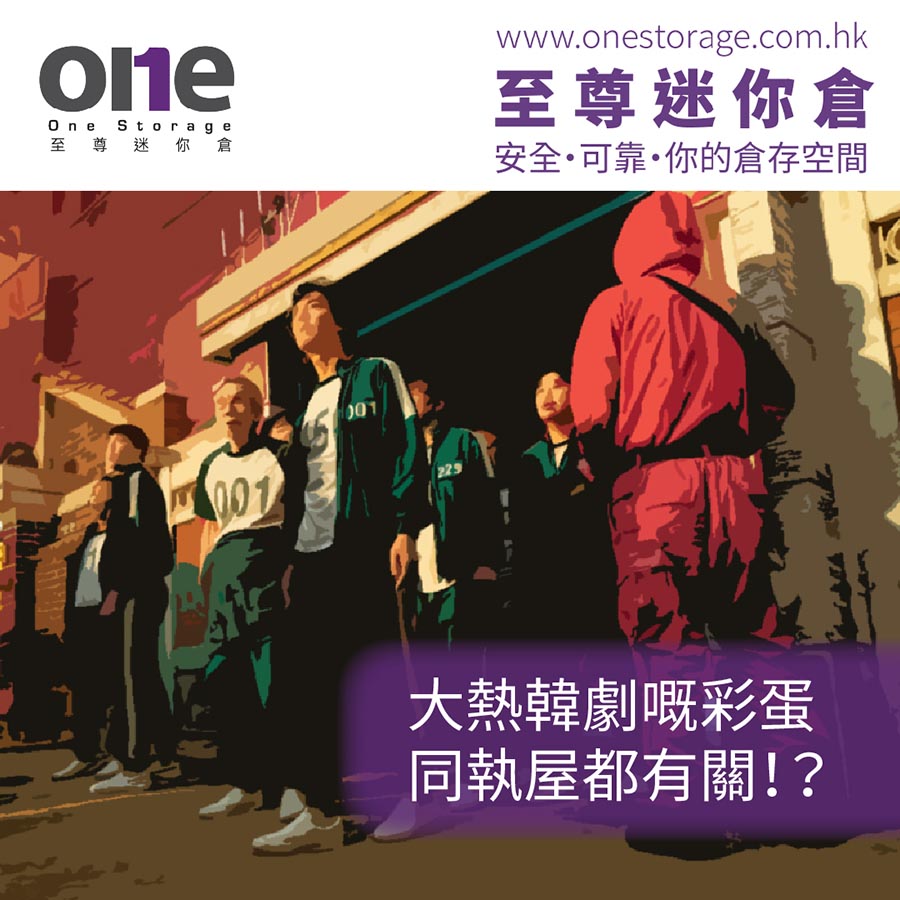 The recent Netflix original Korean drama "Squid Game" has created a global "squid craze". In addition to the costumes worn by the characters in the drama, there are also coffee shops in China that offer squid game themed events where customers can participate in the game of ponzu that appears in the drama.

In fact, the appearance of so many side events and products not only reveals people's love for the squid game series, but also because people want to be more involved in the special worldview of the series, but there is no telling when the second season will be released.

While fans are waiting for the second season to be released, do you know a big egg in the squid game?

(The following will be spoilers, so if you don't want to be spoiled, you may want to watch it and come back!

In fact, on the outside wall of the room where the contestants live, all the games and sequences that will appear have been painted on the wall, but at first there were too many beds and things in the room so that no one found them! If a participant had found it earlier, I believe he would have gained a clear advantage and greatly increased his chances of winning!

It's a pity, isn't it? But in fact, in reality, there are many families in Hong Kong who have painstakingly designed their living space and room style to be destroyed and buried by household clutter.

Whether it's a wall painting designed with the kids or a family retreat, it's inevitably blocked by clutter. With the lack of storage space in Hong Kong, these are common annoyances.

But just because you have a problem doesn't mean you can't solve it.

One Storage is dedicated to solving the storage problems of Hong Kong families. We offer a variety of storage sizes so that all families can find the right size for their needs. We offer a wide range of storage sizes so that all families can find the right size for their needs. One Storage is also in strict compliance with all fire regulations and has a 24/7 security system so that every family can use our services with peace of mind and confidence.

With nearly 30 locations throughout Hong Kong, One Storage can help you solve your home storage problems, no matter where you live in Hong Kong, Kowloon or the New Territories.

Currently, One Storage has a 40% discount at our Kwai Chung branch and Kwai Chung Kwai Fung branch! Families in Kwai Chung can come to One Storage to help them find a more comfortable living space together!
More Than 30 Branches

|Return the original appearance of your home|Mini storage to help you!
Kennedy Town / Chai Wan / Siu Sai Wan / Wong Chuk Hang / San Po Kong / Yau Tong / Kwai Chung / Kwai Hing / Kwai Fong / Tsuen Wan / Tsing Yi / Fo Tan / Tuen Mun / Tai Po
Enquiry Hotline: 2111-2636

*Terms and conditions: Specified warehouse type and prepayment of specified rent are required, quantity is limited, price varies according to size and latest promotion, for reference only, quantity and promotion period are limited, while stock lasts. Please contact us for details. The offer is only applicable to first-time new customers and cannot be used in conjunction with other offers.