Li's field has failed|What you need to know when a typhoon strikes|One Storage|Mini Storage
Release Date: 11-10-2021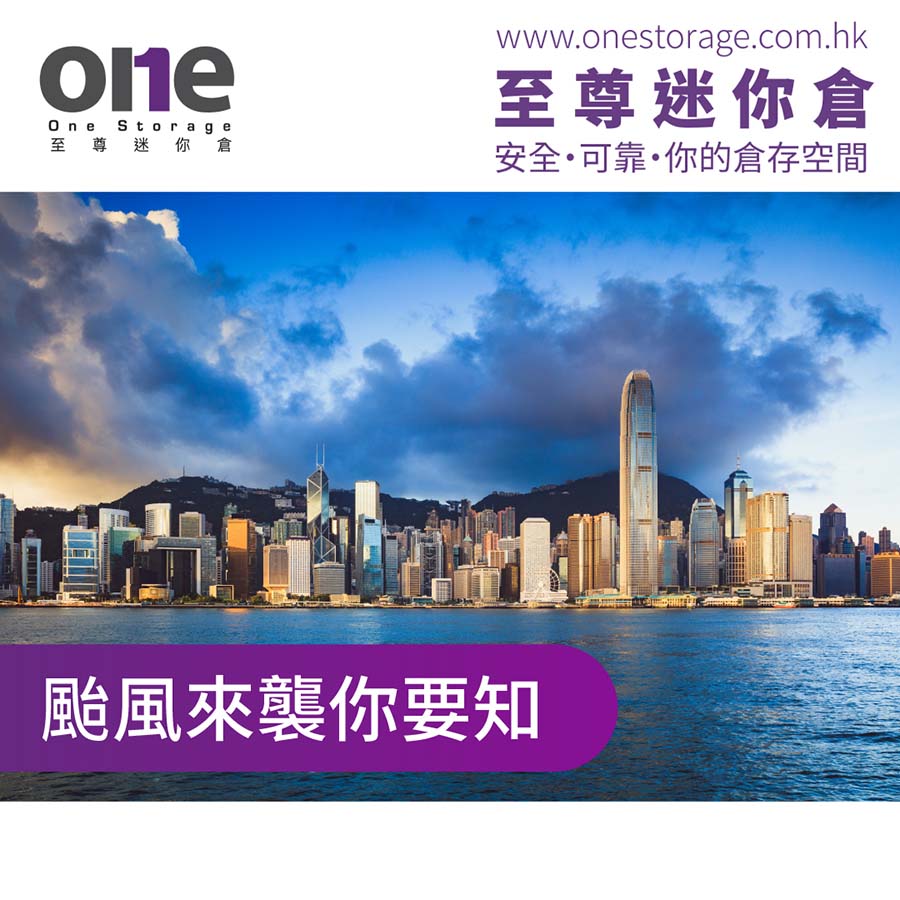 It's raining and windy on Saturday, but the weather doesn't even like me? So it's been an autumn weekend and we're forced to stay indoors again! The tropical cyclone Lion Rock has just left for one day, but another storm, Typhoon Yuengding, is coming today, and I heard that this typhoon is stronger than Lion Rock! I'm afraid you won't be able to enjoy the autumn breeze on Chung Yeung this year, and you'll have to stay on alert and prepare for typhoons, especially for those who live in the hills and coastal areas!
What do you need to do before the typhoon? Take a look at the following precautionary measures
Windows: When it rains and winds, the windows are the most important thing! For those on the upper floors, windows will be blown out, and for those on the lower floors, water leakage is the most important. Although this may not prevent the windows from breaking, it can at least reduce the extent of glass breakage. For lower floors, buy a waterproofing film today and apply it to prevent rainwater infiltration.
Balconies: Make sure that the water table is clear to avoid accumulation of water, and prepare sandbags/splashers for low-lying areas to prevent flooding. Also keep miscellaneous items away from the street to prevent them from being blown out by strong winds. If you have electrical appliances on your balcony, disconnect them from the power supply before the wind blows, and tie the plug and cable with plastic tape to avoid getting them wet.
Electrical appliances: Similarly, put away all electrical appliances and mopboards near the windows and make sure they are not wet before use. Turn off the air conditioner at the front of the room, otherwise the air conditioner may be damaged.
Drainage holes: In both kitchens and toilets, it is important to check that the drainage level is clear before ducting. If the drainage is not smooth, clean it first. If there is a blockage, it may cause sewage to back up into the room.
Doors: Close the doors of your home when the wind is blowing. When strong winds are blowing head-on, there is enough air pressure inside to protect the windows and doors from the typhoon. If the door is left open, there will be strong convection currents and the air pressure may not be strong enough to withstand the typhoon, causing the glass to shatter.
When you are ready, what should you do indoors? Don't miss out on the 60% discount offer at One Storage's Kwai Chung and Kwai Chung Kwai Fung branches!
Kennedy Town / Chai Wan / Siu Sai Wan / Wong Chuk Hang / San Po Kong / Yau Tong / Kwai Chung / Kwai Hing / Kwai Fong / Tsuen Wan / Tsing Yi / Fo Tan / Tuen Mun / Tai Po
Enquiry Hotline: 2111-2636
*Terms and Conditions: Specified storage type and prepayment of specified rent are required, quantity is limited, price varies according to size and latest promotion. Please contact us for details. Only applicable to first-time new customers and cannot be used in conjunction with other promotions, the decision of Supreme Mini Storage is final.