2022 Wedding Show! Wedding supplies storage is easy! |Living Space|One Storage|Mini Storage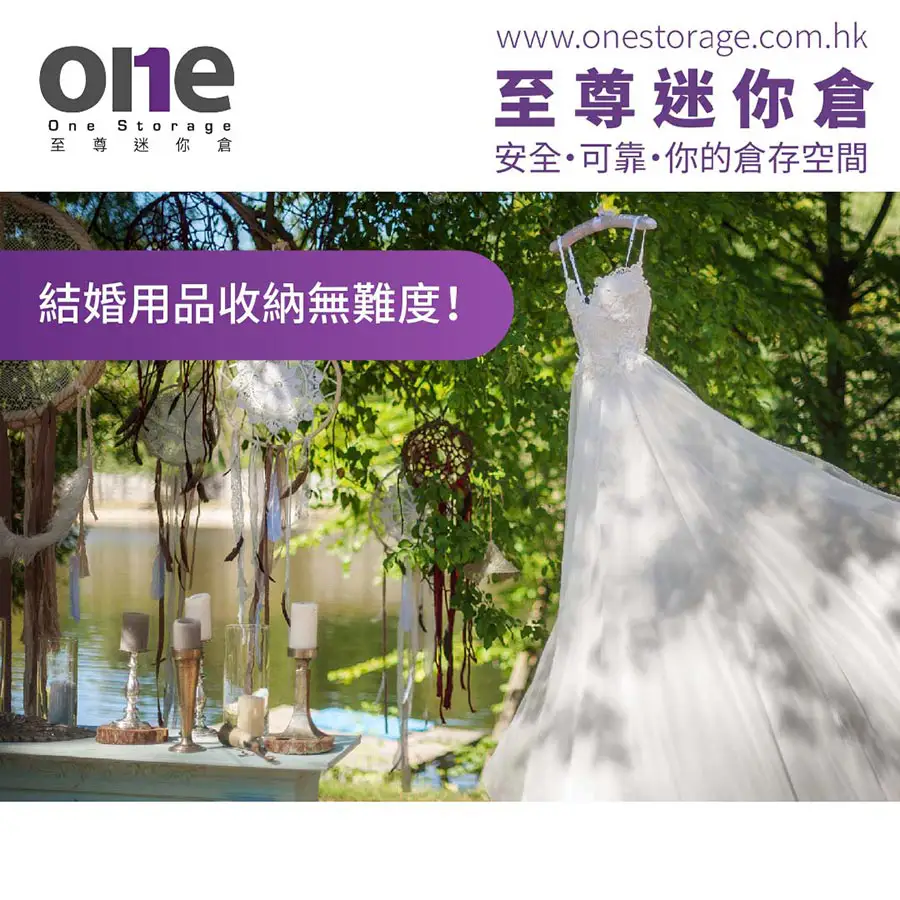 The "Hong Kong Wedding Show & World Wedding Tour 2022" and "Hong Kong Wedding Banquet Show & Wedding Supplies Expo 2022" will be held from July 15 to July 17. Presumably many prospective couples and couples are collecting wedding information and buying wedding supplies. It's a good time, and if you're also planning to start a family with your significant other, you might as well go!
Getting married is one of the most important events in life. Many things must be paid attention to and planned in advance. The wedding photos, banquets, make-up and venue layout should be paid attention to in advance. There are also different wedding dresses in the wedding items. , evening wear, jewelry, gifts and postcards, etc. need to be prepared and priced as soon as possible, so you can't prepare in a hurry!
The newlyweds who are well-prepared may have purchased a lot of supplies at the wedding exhibition and wedding banquet exhibition, and even bought a lot of marriage-related items earlier, such as wedding dresses, evening wear, jewelry and gifts. . But these are special things for weddings, and they are not used at all, but planning a wedding may take half a year to a year. Putting them at home greatly compresses the usual living space!
In fact, marriage is a sacred and happy relationship. Two people who believe in life can step into a new stage of life together, which should really be celebrated. But preparing for a wedding and even storing wedding items may become the trigger for everyone's conflict, especially in Hong Kong, the problem of insufficient storage is really common!
But in fact, there are good helpers that can easily solve the storage needs of wedding items. You and the other half only need to concentrate on the wedding arrangements! That's right, our One Storage Extreme Mini Storage is a good helper for your storage!
One Storage Super Mini Storage has 37 branches all over Hong Kong, trying our best to provide the fastest and easiest mini storage experience for friends in different regions. A couple may have trouble with temporarily storing items at the wedding. One Storage Supreme Mini Storage will help you. In addition to the "Space Calculator" on the official website that helps you calculate the required storage space, there are also different sizes of storage. With flexible lease period, it is more convenient for you to rent long and short term! There is an intelligent security system in the warehouse, which is completely designed in accordance with the fire regulations, allowing you to have the most secure storage experience!
-------------------------------------
Click to check our latest offer now
Talk to us: https://m.me/onestorage
-------------------------------------
✅ 24-hour easy access at any time
✅ 7x24 smart security access system
✅ HD security monitoring and alarm system
✅ Comply with latest Fire safety guidelines
✅ Constant temperature air-conditioning system
Hong Kong Island:
Siu Sai Wan | Chai Wan | Tin Hau | Kennedy Town | Wong Chuk Hang
Kowloon:
Yau Tong | Kwun Tong | San Po Kong
New Territories:
Kwai Chung | Kwai Hing|Kwai Fong | Tsuen Wan | Tsing Yi | Fo Tan | Tai Po | Tuen Mun
Express Whatsapp: https://cutt.ly/51188503
*Terms and conditions apply, please contact our staff for details.
*Terms and Conditions: Offer is subject to availability while stocks last. This offer is only applicable to new registered customers of Supreme Mini Storage. In case of any dispute, the decision of Supreme Mini Storage shall be final. Registrants have read this Disclaimer page and agree to the Personal Data and Privacy Statement and are willing to receive promotional information.