How does WFH maintain state? Be Ready for yourself and your home! |Work from Home|One Storage|Mini Storage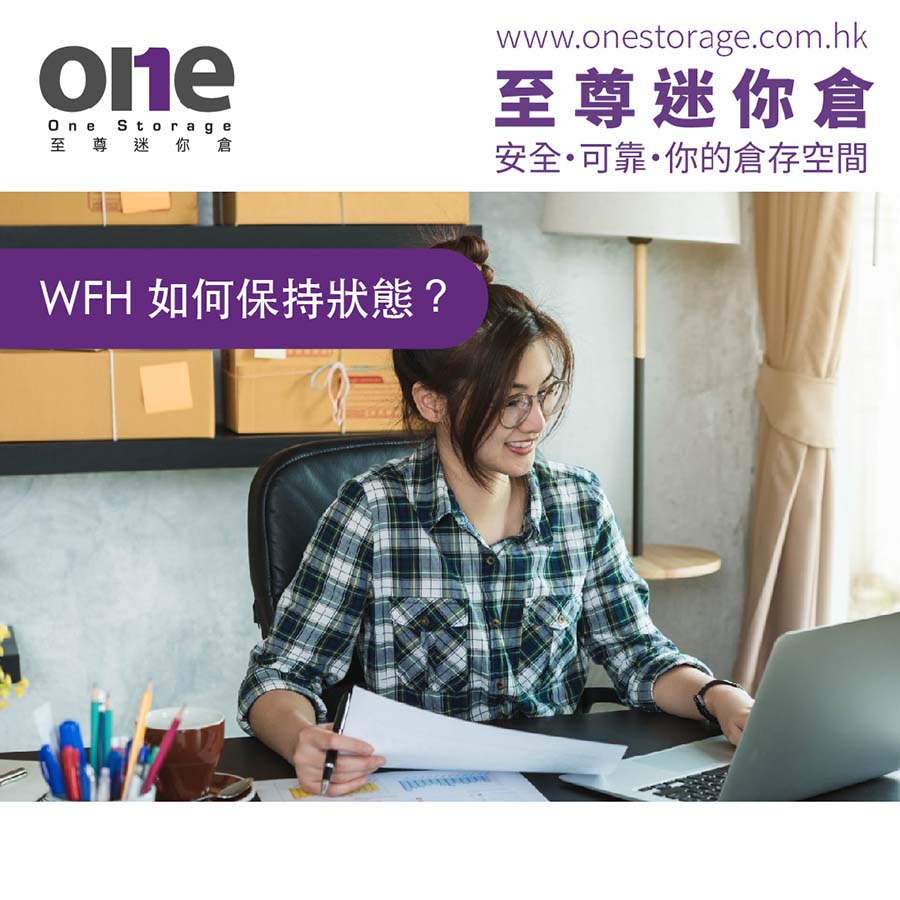 Now that the epidemic is serious, many companies have implemented WFH (Work from Home). If you are one of them, have you ever worried that staying at home will lead to low work efficiency? Fear not, our One Storage Extreme Mini Storage
Here are some tips for you!
1. Regular work and rest, smart casual wear
Many people who work from home should feel that they cannot maintain their work mentality. If they want to maintain their state, they must maintain their usual daily routine, get up at the usual time to get up, get dressed and freshen up, so that they can switch to the mood and mode of work. Also, working from home is best dressed in smart casual attire, as you may have the opportunity to videoconference to avoid being seen by coworkers or bosses as not being serious, and as a form of respect and self-awareness.
2. Don't work on the bed or sofa
Avoid working in bed or spread out on the sofa. On the one hand, it is difficult to concentrate and enter the state. On the other hand, long-term wrong posture may cause damage to the cervical spine and different tendons.
3. Separate living and office areas
Even if you are working from home, it is best to set up a work space at home, from which you can supervise yourself that you are working in this space. There is no need to have a room the size of a room, a quieter corner of the home will suffice. The working environment is best to use lighter shades of light and do not put some entertainment-related objects next to them, and stay focused. It is also a good choice to make the office space as close to the window as possible, the natural light and the scenery outside the window can lift the spirits.
4. Rent a mini storage to keep your home tidy
Usually working in an office, the environment is generally tidy and well-conditioned, but the environment at home is different for everyone, and sometimes there are many sundries, which may not be suitable for you to work at home. You can try renting a mini-storage to clear out the clutter and get yourself and your home ready!
And we One Storage has nearly 30 branches in Hong Kong, and there is always one near you! It operates 24 hours a day and also supports the withdrawal and deposit of items throughout the day, ensuring that you can withdraw or deposit at any time, and the time is up to you!
Work from home to prepare the environment and prepare the mood! The limited discount launched by One Storage Extreme Mini Storage is also ready for everyone in the morning!
For concessionary registration enquiries: https://m.me/onestorage
-------------------------------------
Kennedy Town | Tai Po | Chai Wan | Siu Sai Wan | Wong Chuk Hang | San Po Kong | Yau Tong | Kwai Chung | Kwai Hing | Kwai Fong | Tsuen Wan | Tsing Yi | Fo Tan | Tuen Mun
Click here for Express Whatsapp: https://cutt.ly/51188503
*Terms and conditions apply, please contact our staff for details.
*Terms and Conditions: Offer is subject to availability while stocks last. This offer is only applicable to new registered customers of Supreme Mini Storage. In case of any dispute, the decision of Supreme Mini Storage shall be final. Registrants have read this Disclaimer page and agree to the Personal Data and Privacy Statement and are willing to receive promotional information.