3 things to know about White Day! The sweetest thing is? | Home Space | One Storage | Mini Storage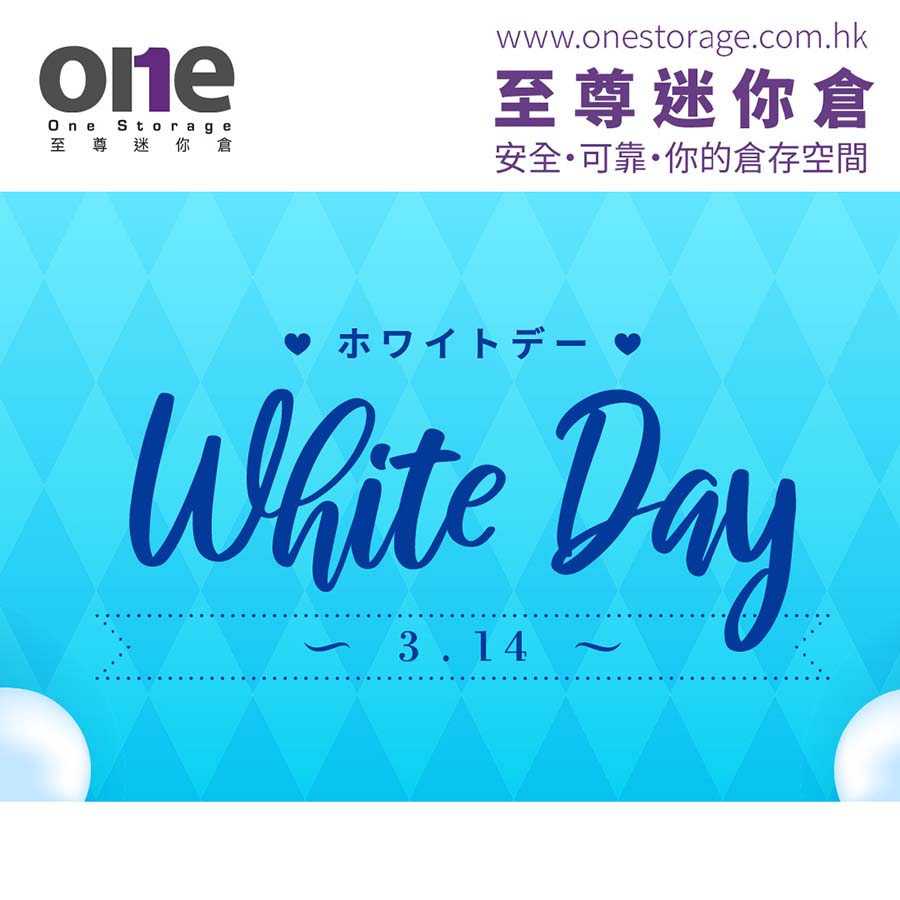 White Day is coming! Although it may not be possible to spend a snowy White Day in Hong Kong (the weather has begun to turn hot in March...), those who have lovers can still exchange gifts with their other half, and those who have objects can also try to use gifts boldly Express your heart! Romantic and warm!
And the story of Valentine's Day may be heard a lot, but how much do you know about the story of White Day? Let us One Storage Extreme Mini Storage to share with you!
White Day Knowledge 1. The source?
It is reported that White Day is a product promotion activity originated from the Japanese confectioner - "Ishimura Wanshengtang"! Advocating the form of "return gifts" to respond to the thoughts and confessions received on Valentine's Day, the effect is far beyond imagination! That's what makes White Day a popular holiday!
White Day Knowledge 2. Girls return gifts?
In Japanese local saying, the date of a girl's confession is Valentine's Day on February 14th, and after a boy receives a chocolate that represents a girl's heart, he can prepare a reply on White Day on March 14th!
Knowledge of White Day 3. How many Valentine's Days are there?
In addition to the most famous Valentine's Day on February 14th and White Day on March 14th, there are actually other interesting Valentine's Days every month! Such as Silver Valentine's Day on July 14th and Wine Valentine's Day on October 14th!
But in fact, the festival is just a reminder. If you can live together, cook and watch TV together, every day will be sweet! But if you want to be sweet, you must have space. If there are too many household clutter, how can you cook rice happily?
So the sweetest thing is to rent our One Storage Extreme Mini Storage to empty the house for the other half!
We have a total of 37 branches in Hong Kong, and the transportation is guaranteed to be convenient! The design of the warehouse meets the requirements of fire prevention and fire protection, and safety is always our first priority! Put all the household clutter in the mini storage, and live in an empty nest with the other half!
Sweetness needs space too! One Storage Extreme Mini Storage Launches Limited Offer! Create romance with you!
-------------------------------------
Click to check our latest offer now
Talk to us: https://m.me/onestorage
-------------------------------------
✅ 24-hour easy access at any time
✅ 7x24 smart security access system
✅ HD security monitoring and alarm system
✅ Comply with latest Fire safety guidelines
✅ Constant temperature air-conditioning system
Hong Kong Island:
Siu Sai Wan | Chai Wan | Tin Hau | Kennedy Town | Wong Chuk Hang
Kowloon:
Yau Tong | Kwun Tong | San Po Kong
New Territories:
Kwai Chung | Kwai Hing|Kwai Fong | Tsuen Wan | Tsing Yi | Fo Tan | Tai Po | Tuen Mun
Express Whatsapp: https://cutt.ly/51188503
*Terms and conditions apply, please contact our staff for details.
*Terms and Conditions: Offer is subject to availability while stocks last. This offer is only applicable to new registered customers of Supreme Mini Storage. In case of any dispute, the decision of Supreme Mini Storage shall be final. Registrants have read this Disclaimer page and agree to the Personal Data and Privacy Statement and are willing to receive promotional information.