Four tips to help you store your red wine! |Household storage|One Storage|Mini Storage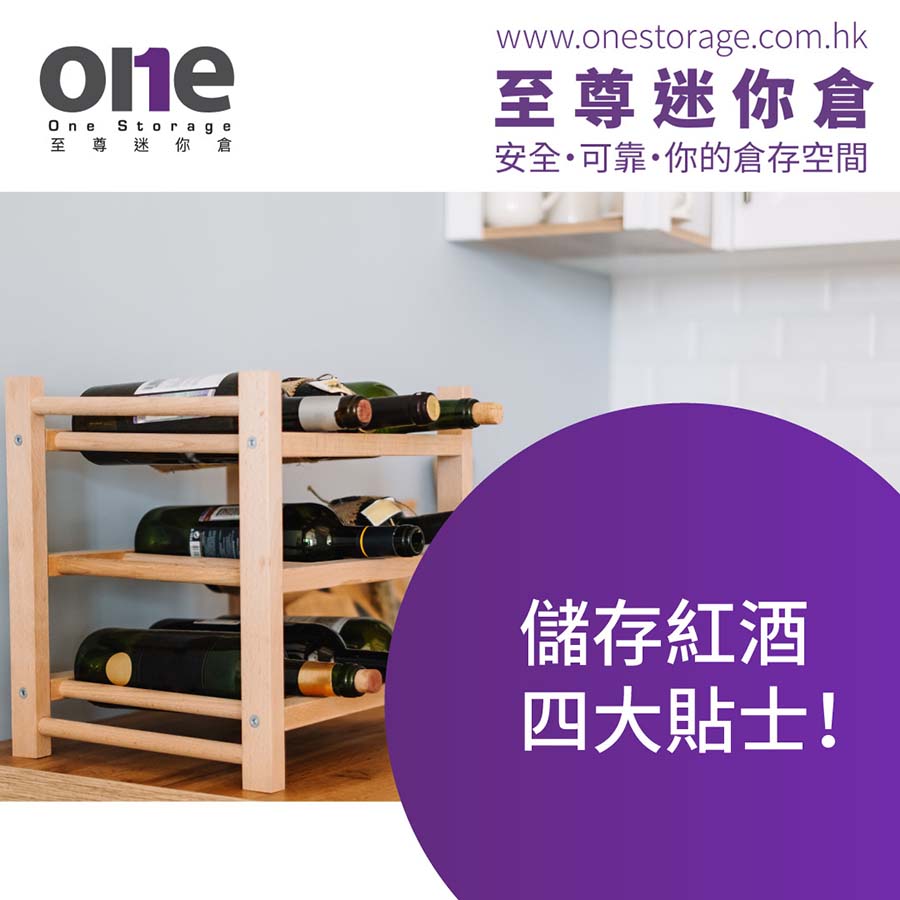 There are many wine lovers in Hong Kong, so the collection of red wine at home is not as rare as before. But after buying so many fine wines, whether it's collecting, sharing free drinks with friends, or investing in value preservation, the most feared is the deterioration of the wine.
But as the so-called aged wines, red wine should not easily deteriorate over time. In fact, red wine often deteriorates because of improper storage methods. Our One Storage Supreme Mini Storage is ready to give you four tips to make you better. Store red wine locally.
Can not be kept in the refrigerator for a long time
The temperature of a normal refrigerator is usually between 1.5°C and 3°C, but in fact, red wine cannot be kept at a low temperature for a long time. About 12°C is the appropriate storage temperature.
Not exposed to direct sunlight
Regardless of the high-quality storage environment, sunlight will accelerate the oxidation of red wine and deteriorate its quality.
Cannot be placed on the display rack
Hong Kong is a sub-heated region, and the general room temperature is definitely far higher than 12°C. Display racks placed at room temperature will also accelerate the deterioration of red wine.
Cork-packed wine cannot be stored vertically
If stored vertically, the cork of the wine will easily become dry and allow air to enter the bottle, oxidizing the wine. Lie the bottle flat so that the liquor can touch the cork and keep it moist.
In fact, looking at the above points, you can understand that to store red wine at home, buying a professional wine cabinet is always indispensable. But many people do not have space to put wine cabinets because there are too many clutter in their homes. It is absolutely not worth it to make your beloved wine go bad or deteriorate for a pile of sundries. Come to our One Storage supreme mini storage helper to store household sundries!
The number of One Storage Supreme Mini Storage stores is close to 30. The branch is located in Hong Kong, Kowloon and New Territories with convenient transportation. One Storage Supreme Mini Storage not only strictly complies with all fire protection requirements and related laws and regulations, but is also equipped with an all-day security system to ensure the safety of storage items. At the same time, guests can make use of the space calculator provided on the One Storage website, so both large and small families can better budget.
One Storage Supreme Mini Storage Fo Tan Hip Hing Branch is now offering a 40% discount. Friends in Fo Tan District, don't let your collection of wine suffer anymore. Hurry up and ask us to help you deal with miscellaneous troubles!
Discount registration query: https://m.me/onestorage
-------------------------------------

One Storage-your affordable helper
✅24-hour self-withdrawal, easy access at any time
✅7 x 24-hour smart security access system
✅High-definition security monitoring and alarm system
✅Comply with the fire safety guidelines of the Fire Services Department
✅All branches are equipped with a constant temperature air-conditioning system that operates around the clock
--------------------------------------
One Storage Supreme Mini Storage|Nearly 30 branches in Hong Kong|Toy model storage|Complete security system
Hong Kong Island: Siu Sai Wan|Chai Wan|Kennedy Town|Wong Chuk Hang
Kowloon: Yau Tong|San Po Kong
New Territories: Kwai Chung | Kwai Hing | Kwai Fong | Tsuen Wan | Tsing Yi | Fo Tan | Tai Po | Tuen Mun
--------------------------------------

Click here for the express Whatsapp: https://cutt.ly/51188503
Enquiry Hotline: 21112636
*Promotion terms and conditions: The designated warehouse type and the designated rent must be paid in advance. The quantity is limited. The price varies according to the area and the latest promotion. It is for reference only. The quantity and promotion period are limited, while the quota is full. Please contact us for details. Only applicable to new customers who register for the first time, and cannot be used in conjunction with other discounts. Supreme Mini Storage reserves the right of final decision.