Too many Wine? Four tips to teach you how to keep! |One Storage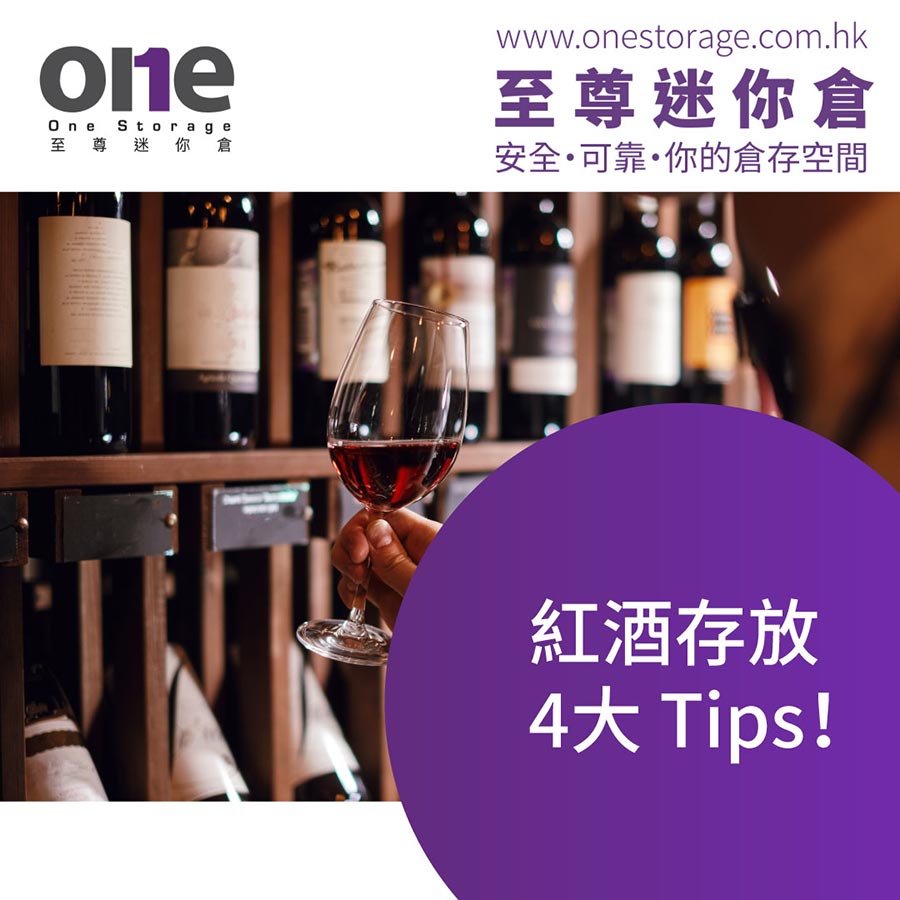 As more and more people like to collect high-quality red wine at home for tasting, and share it during investment or gatherings, many people in Hong Kong also have higher awareness and requirements for red wine. Last time we shared the precautions for storing red wine, this time our One Storage Supreme Mini Storage intends to share the tips for storing red wine after opening:
Divide into several vials:
The biggest reason for the deterioration of red wine is the oxidation caused by exposure to air. Therefore, dividing the red wine into several small bottles and filling them as much as possible can effectively reduce the air in the bottle, thereby slowing down oxidation.
Cryopreservation:
The refrigerator with stable temperature can store the red wine after opening the bottle for a short time, but the long-term low temperature will also cause the red wine to deteriorate, so it is only a short-term method. At the same time, remember not to put it in the freezer compartment, as the glass bottle may break.
Avoid exposure to air:
If you want to store the red wine for a longer time after opening the bottle, you must screw the bottle cap tightly or plug it back into the cork. If red wine is exposed to the air for nearly one night, most of the wine will deteriorate and lose its flavor.
Use red wine preservation aids:
There are also professional tools on the market, such as vacuum stoppers and wine needles, which can cope with the problem of difficult preservation of red wine after opening a bottle, but it requires certain skills to use it.
Of course, in fact, red wine should be consumed as soon as possible within one or two days after the bottle is opened. Only by using different professional tools can the storage time be reluctantly extended. However, Hong Kong lacks storage space, and it has to store wine cabinets and wine-related tools. It is possible to empty some sundries. That being the case, One Storage Supreme Mini Storage is your best choice!
There are nearly 30 branches of One Storage Supreme Mini Storage. There are branches in Hong Kong, Kowloon and New Territories, which strictly comply with all fire protection requirements and have an all-day smart security system to ensure the safety of all customers' belongings. At the same time, One Storage supreme mini storage provides a variety of storage types of different sizes, and different customers and various needs can find the most suitable storage type.
In addition to the wine cabinet, what other furniture do you want to buy? Hurry up and take advantage of the One Storage Supreme Mini Storage Limited Offer! Create more choices for your own life!
Now successfully register for 12 months to enjoy a special discount, plus 1 month of free warehouse rent*! 40% off 12+1*, hurry up and register for an appointment!
Nearly 30 Supreme Mini Storage|Open 24 hours|A good helper for home storage
Kennedy Town / Chai Wan / Siu Sai Wan / Wong Chuk Hang / San Po Kong / Yau Tong / Kwai Chung / Kwai Hing / Kwai Fong / Tsuen Wan / Tsing Yi / Fo Tan / Tuen Mun / Tai Po
-----------------------------
Click here to know more One Storage latest promotion

Renovation | Short term rental | One Storage Can Help | Mini Storage

-------------------------------------
Click here for express whatsapp: https://cutt.ly/51188503
Website: https://onestorage.com.hk/
Enquiry Hotline: 2111-2636
*Promotion terms and conditions: The designated warehouse type and the designated rent must be paid in advance. The quantity is limited. The price varies according to the area and the latest promotion. It is for reference only. The quantity and promotion period are limited, while the quota is full. Please contact us for details. Only applicable to new customers who register for the first time, and cannot be used in conjunction with other discounts. Supreme Mini Storage reserves the right of final decision.