New development in Wong Chuk Hang you need to know|One Storage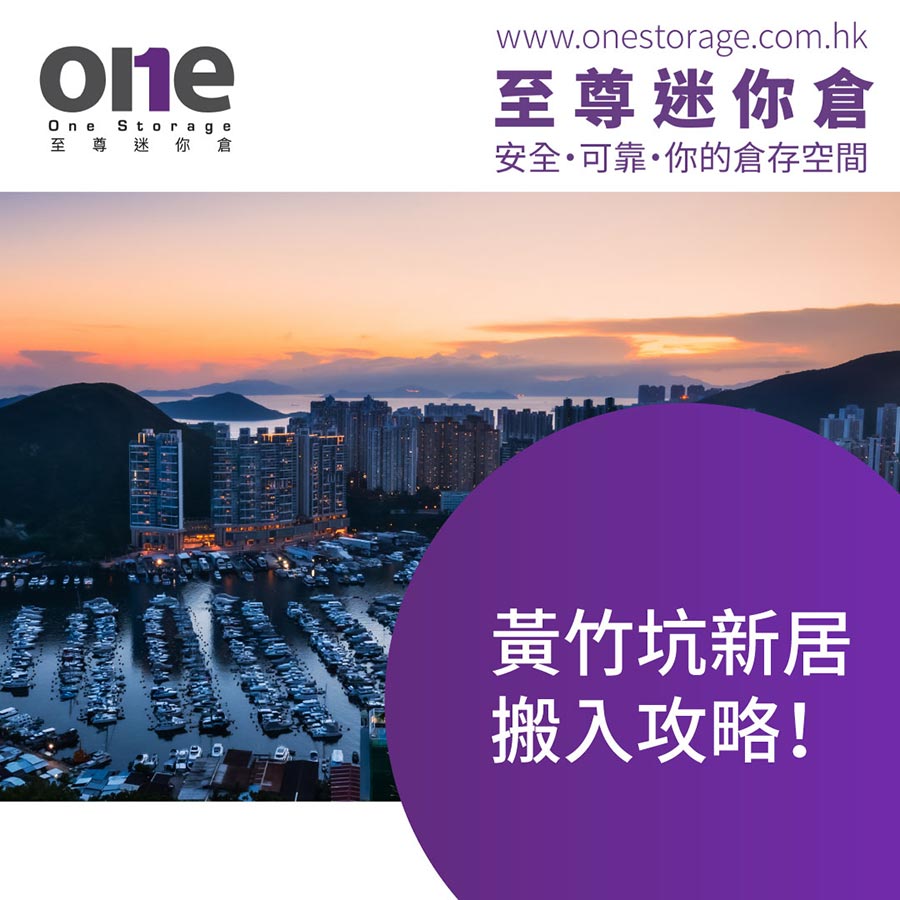 Pay attention to extra charges for moving houses
Courier and logistics service packages
How much do you know about Wong Chuk Hang? Wong Chuk Hang used to be a concentrated light industry, surrounded by commercial buildings and hotels, as well as Hong Kong's very famous Ocean Park. But in addition, it turns out that Wong Chuk Hang was one of the earliest places where people lived in Hong Kong. There are many historic villages around it. "The origin of this name!"
Through the changes of the times, Huangzhukeng has become a light industrial town from the early stage of fishermen and business travelers, and now it is slowly becoming a well-equipped residential area. Since the establishment of the subway station, there is no trouble visiting Wong Chuk Hang. Therefore, the real estate in Wong Chuk Hang, especially the real estate near the subway station, has been welcomed by many people.
As the development of more and more urban areas is gradually facing saturation, areas such as Wong Chuk Hang, which are not urban areas, are gradually increasing and many people choose to settle. Therefore, our One Storage supreme mini storage has decided to start with new real estate, decoration, moving, express delivery and mini storage to let everyone know more about living in Wong Chuk Hang!
Wong Chuk Hang New Properties
The superstructure project of the MTR Wong Chuk Hang Station formerly known as Wong Chuk Hang Village: "South Shore of Hong Kong Island" has launched the first phase of "SOUTHLAND Jinhuan" and the second phase of "LA MARINA Yanghai".
The first phase of "SOUTHLAND Jinhuan" covers an area of ​​about 1.1 hectares, with open-plan to four-room partitions, with a saleable area ranging from 289 square feet to a maximum of 1,302 square feet. There are 51 special units with a saleable area ranging from about 289 square feet to 1,302 square feet. 2,083 square feet.
The second phase of "LA MARINA Yanghai" is located next to the first phase. The project has two residential buildings with 24 and 29 floors. The units have diversified layouts, focusing on two-bedroom and three-bedroom units, with a total of about 469 units. There are also a small number of one-bedroom and four-bedroom designs, with a total of about 102 units and 29 special units.
In terms of surrounding entertainment and supporting facilities, the article mentioned at the beginning of the article that Wong Chuk Hang is the earliest inhabited area in Hong Kong. There are some historical sites around it for exploring and sightseeing. At the same time, Wong Chuk Hang is also the center of sports and recreation facilities in the southern district of Hong Kong Island. There are several standard track and field tracks and real grass lawns in Chuk Hang Stadium and Aberdeen Sports Ground.
In addition, the current industrial building is undergoing transformation. As a former light industrial town, Wong Chuk Hang has also developed various shops in the industrial zone, such as household groceries, studios of local artists, art galleries, etc.
Pay attention to extra charges for moving houses
When I found bamboo shoots in Wong Chuk Hang, I definitely want to buy a building and move in as soon as possible! However, during the move, there are sometimes additional charges due to different factors, so we are prepared to provide some information for your reference in this regard, so that you can better communicate with the moving company:
Different days may have different charges
Moving a house is a major event. Both the family and yourself may need to ask for leave to help or find a place to live temporarily. However, in addition to asking for leave and looking for a hotel, you need to pay attention to the day when you are looking for a moving company. Because if you choose to move on Saturdays, Sundays or public holidays, some moving companies may charge higher than usual fees. Please communicate with the moving company appropriately beforehand.
Item weight may be restricted
In addition to the size, some moving companies also stipulate that each box of items cannot exceed a certain weight and charge extra for items that exceed the weight. Please pay attention to the standards of different moving companies to avoid misunderstandings.
Garbage cleaning-related expenses
Some items may not be moved to the new home. If you want the moving company to help you handle it, such as discarding furniture or sundries, you may be charged separately depending on the size and weight of the items. Please make arrangements with the moving company.
Be aware of transfers to lifts
Some moving companies will also charge extra for projects that need to be transferred to other lifts on the platform and cannot reach the unit at once. When discussing with the moving company, you must explain and explain clearly when communicating to avoid any misunderstanding.
Ascending and descending stairs related calculations
If the relevant unit does not have a lift, many moving companies will charge fees related to stair moving. However, it is particularly important to note that different moving companies have different definitions of floors and number of floors. Some moving companies will use stairs as the unit of calculation, and some moving companies may directly use the number of floors as the unit of calculation and use related services. Must understand clearly before.
Decoration platform promotion
To smoothly move into a new home, of course, it is not only necessary to find a moving company. Decoration is also very important. Nowadays, different decoration platforms are popular, and we have also prepared different information for your reference:
Hellotoby
Hellotoby is an online platform that provides different types of service matching. The content of the platform matching also includes recommended decoration and design matching. The basic use process is to answer several questions, and obtain free quotations from 3 decoration companies and provide different decoration packages or plan. If you finally decide to use the service, the platform will also provide related services such as free door-to-door measurement and professional engineering consulting services.
Hellotoby has provided past examples of different decoration projects and related professional matching objects on the Internet, provided by related materials such as furniture, paint, muddy water and electricity. There is also a user evaluation function, which can be referenced on the website.
Decorator
Renovation Guy is a platform that provides different decoration matching services. The use process is to answer questions and fill in the form, and then will provide free scale quotation services, and will get their respective quotations from 3 decoration companies, and finally will be accompanied by a consultant to sign and give With opinions.
The platform also has a "renovation Q&A" function, which answers the decoration-related questions raised on its website in real time. At the same time, the website provides other relevant information such as news, past cases and prices, and decoration-related courses.
Courier and logistics service packages
Now everyone is accustomed to online shopping, so the express delivery and logistics service packages in each place will be paid attention to by everyone. How about the express delivery and logistics service packages in Wong Chuk Hang? We also have prepared information for your reference:
SF Express
SF Express has always provided a variety of different delivery methods and self-pickup services. In terms of self-pickup, there are different options such as smart cabinet self-pickup and storefront self-pickup, which can be selected according to different needs. The courier company has offices in Wong Chuk Hang Yi Nian Industrial Building and Wong Chuk Hang Bao Chai Industrial Building. In terms of smart cabinets, there are also SF smart cabinets in Wong Chuk Hang Yato Court.
Consolidation
As a company that provides express delivery and consolidation, it also provides delivery and self-pickup services. It has cooperative households in Wong Chuk Hang Shengde Industrial Building to provide self-pickup services. Friends in Wong Chuk Hang District can refer to related materials.
Mini storage promotion
When it comes to moving and moving in, it is necessary to mention the mini-storage. Whether moving or renovating, short-term or long-term storage, and a reliable mini-storage near the place of residence will always be very helpful, so we are also prepared to provide Information about your mini storage in Wong Chuk Hang:
One Storage Supreme Mini Storage
It is also very easy and convenient to find a mini storage in Wong Chuk Hang. One Storage Supreme Mini Storage has branches in Wong Chuk Hang:
Wong Chuk Hang Ruiqi Branch (Room A, 14th Floor, Ruiqi Industrial Building, 18 Wong Chuk Hang Road)
Its location is located in the factory building area of ​​Wong Chuk Hang, with convenient transportation and not far from the subway station. Friends who live in Wong Chuk Hang district have any storage needs, and it is very easy and quick to find a mini storage anytime, anywhere.
At the same time, our One Storage Supreme Mini Storage understands the increasing storage space needs of our customers, and we will also open a new branch in Wong Chuk Hang, the address is as follows:
Wong Chuk Hang Yihua Branch (Unit A&B, Yihua Industrial Building, 56-60 Wong Chuk Hang Road, Wong Chuk Hang, 3/F)
In fact, One Storage Supreme Mini Storage is the most reliable choice for everyone no matter where it is in each district! Our One Storage Supreme Mini Storage has a total of nearly 30 branches in various districts of Hong Kong. They are located in different locations in various districts of Hong Kong. The transportation is convenient and all kinds of transportation are easy to reach. Anyone who needs it is suitable for renting One Storage Supreme Mini Storage to solve problems related to storage, storage, and lack of living space. We strictly follow all relevant fire protection regulations and mini-storage guidelines. Customers can also withdraw their items 24 hours a day, so that every customer can use it easily and at ease!
If you use the space calculation tool provided on the One Storage official website, the system can use the item information you provide to calculate the required storage space and find the most suitable storage type to reduce waste. Each warehouse is also equipped with an all-weather air-conditioning system, so there is no need to worry about deterioration and other issues when storing most types of objects! Whether you are decorating, moving house and want to store household items, or your children have bought too many toys, or even storing items related to cycling competitions with friends, One Storage will definitely help you!
Whether you live in Wong Chuk Hang or friends in other areas, everyone can enjoy the limited discounts offered by One Storage Supreme Mini Storage! Don't miss it!
Now successfully register for 12 months to enjoy a special discount, plus 1 month of free warehouse rent*! 40% off 12+1*, hurry up and register for an appointment!
One Storage Mini Storage|New Building, Moving House, Decoration, Express Delivery, Mini Storage|Clear Storage Space
Kennedy Town | Tai Po | Chai Wan | Siu Sai Wan | Wong Chuk Hang | San Po Kong | Yau Tong | Kwai Chung | Kwai Hing | Kwai Fong | Tsuen Wan | Tsing Yi | Fo Tan | Tuen Mun
Discount registration query: https://m.me/onestorage
Click here for the express Whatsapp: https://cutt.ly/51188503
*The offer is subject to terms and conditions, please contact the staff for details.
*Terms and Conditions: The discounts are limited, while stocks last. The discounted prices are for reference only. Please check with the staff for details. This offer is only applicable to newly registered customers of Supreme Mini Storage. In case of any dispute, Supreme Mini Storage reserves the right of final decision. The registrant has read this disclaimer webpage and agrees to the "Personal Information and Privacy Statement", and is willing to receive promotional information.