One Storage | How to help build a two-person world | Mini Storage
Release Date : 30-07-2021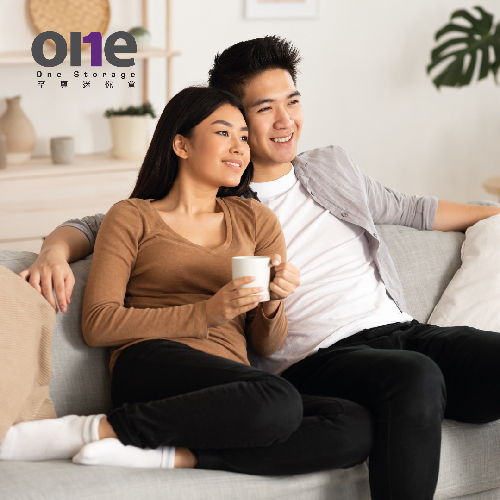 In the midst of the epidemic, Hong Kong people are forced to pay expensive prices for different epidemic prevention supplies, including masks, disinfectant supplies, gloves, etc. This shows that the prices of goods in Hong Kong are so high that they are considered one of the highest in the world! Apart from daily expenses, property prices in Hong Kong are also the highest in the world. Whether you are buying a property in the city or out of the city, Hong Kong is still conservatively ranked first in the world in terms of property prices, with an average cost of $201,350.5 to buy a square metre, well ahead of the second place country.
Many newlyweds find it even more difficult to "get into a car". Even if they don't eat or drink, it is still difficult to buy a flat to start a family and enjoy the world together. Hong Kong is either a very expensive place to live or a very small place to live. With no other choice, more and more Hong Kong people have to spend millions of dollars to buy a nanny flat, just to spend their whole life chasing the goal of "getting a car and a flat".
In a nanny flat, there is not only little space for activities and rest, but also little storage space, making it difficult for office workers who need to dress up to put away their clothes.
Basically, the storage space in the Nano House is so small that even the boys' favourite model does not have enough floor space to display it. But if you are faced with a mountain of clutter all day long, is this the ideal home for everyone?
In view of this, why not try renting a mini storage unit to solve all your space problems in one go?
For couples who want to have space to live a perfect and secure life together, One Storage can help you achieve your dream!Mini storage is a great way to put away all the things you don't want to part with or don't need at the moment, reducing clutter in your home and expanding the space in your home to improve your quality of life!
Secondly, One Storage has shops all over Hong Kong, Kowloon and the New Territories, and with expansion underway, they may soon cover the whole of Hong Kong. Thirdly, all One Storage mini storage outlets comply with the latest Fire Services Ordinance and Fire Services Department mini storage guidelines to ensure the safety of the items stored in them. With such safety, customers can easily and conveniently self-store or take out items they need on a 24-hour basis.
Recently One Storage has been running a flash sale across the region for a limited time, with some mini storage outlets offering as low as 55% off or 3 months free mini storage, so don't miss out on a great deal!
If you're worried about the size of your mini storage, One Storage has a wide range of mini storage sizes to choose from, and you can use the space calculator to calculate the size you need! If you don't know what size you need, click on the link below to use their space calculator!
Contact One Storage Customer Service NOW! Our specialists will recommend the best solution for you!