Pet Supplies|One Storage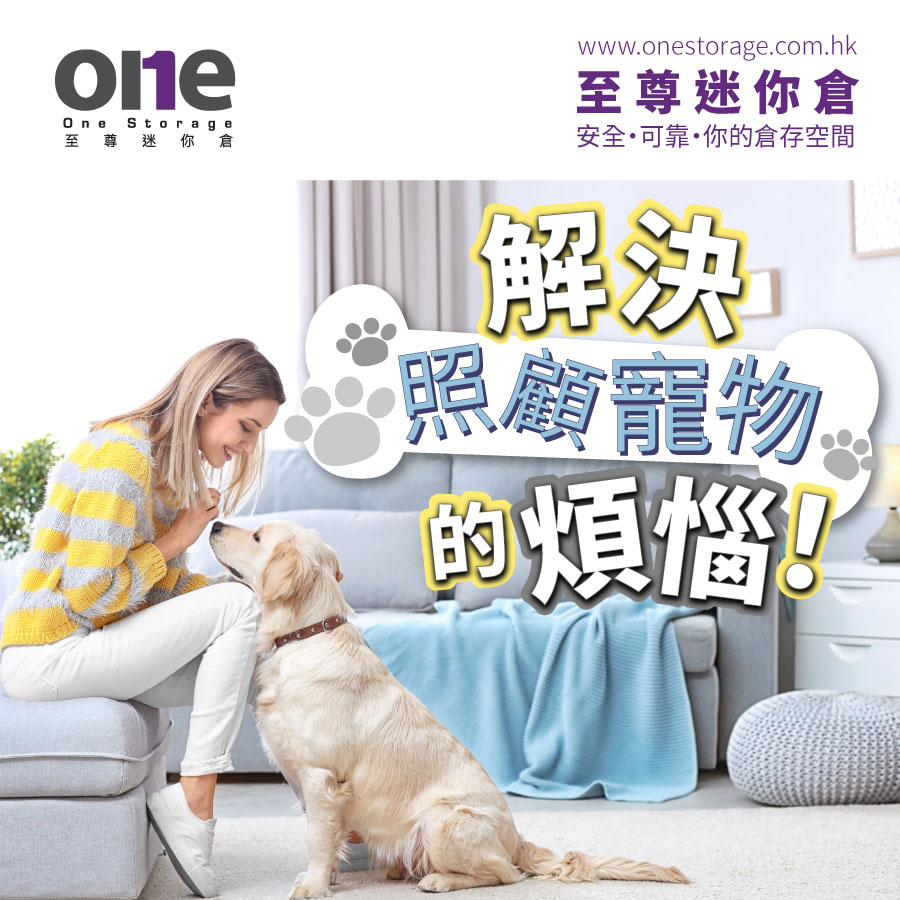 It's not easy to take care of your pets at home, mini storage can solve your problems!
Nowadays, we all consider our pets as our beloved babies and do our best to create a better life for them! In order to make your pet's life better, different pet supplies are indispensable. However, there is no limit to the amount of space in your home for your pets, so why not learn how mini storage can make it easier for you to store your pet supplies?
Pet supplies pick up method | Mini storage | Self storage Date: 16-08-2021

In recent years, the birth rate is getting lower and lower with pet ownership, after all, the cost of raising animals is not as huge as raising children, so many people will be raising animals as their own children so. Owners want to give the best to their own children, whether it is good food, good dressing, good training, all must be of the highest level~.

For this reason, every pet show has many pet brands selling their products at special prices, and owners go to order when they see them! But you have to buy food, toys and daily necessities than your favorite pets, so you have to buy more and there is no space for them.

Wake up to two tricks more than so many! First of all, of course, we have to sort the products into different categories, and then use different colored boxes to sort them out, and then put labels on them and stack them high, so that they are clear and tidy~ But in fact, no matter how much you buy, it is useless to do it, because there is not enough space in the house, so at this time, we have to use the storage for you!
Ten pet supplies storage point|Pet supplies|One Storage Post Date: 09-03-2022

Hong Kong people love their pets, but there is no place to store your pet supplies, One Storage can help you! Each storage space is air-conditioned to maintain a stable temperature and humidity level, and complies with all fire regulations and codes, giving all customers peace of mind. And with 24-hour pickup and storage, it's easy to pick up or collect your pet's belongings whenever you want!
---
至尊迷你倉 One Storage 幫到你!至尊迷你倉有近40間分店,全部分店都遵從消防條例和配有24小時智能保安進出系統,保障客戶物品安全。此外,至尊迷你倉One Storage於所有迷你倉內都設有無間斷恆溫空調,保證溫度適中。如果有興趣了解至尊迷你倉所提供的不同倉型和設備,歡迎到查詢最新優惠。

-------------------------------------

至尊迷你倉 One Storage - 你的實惠幫手
✅24小時自助提存,隨時輕鬆進出
✅7 x 24小時智能保安進出系統
✅高清保安監察及警報系統
✅完全遵從消防處消防指引
✅全分店配置全天候運作恆溫空調系統
--------------------------------------
至尊迷你倉 One Storage|迷你倉|全港40間分店任你揀|空間就在等你!
港島區:小西灣|柴灣|堅尼地城|黃竹坑
九龍區:油塘|新蒲崗
新界區:葵涌|葵興|葵芳|荃灣|青衣|火炭|大埔|屯門
--------------------------------------
💻 按此特快 whatsapp:https://cutt.ly/51188503
☎ 查詢熱線:21112636
*優惠受條款約束,詳情請聯絡職員。

*條款及細則: 優惠名額有限,送完即止,優惠價格只供參考,詳情請向職員查詢。此優惠只適用於至尊迷你倉之新登記客戶。如有任何爭議至尊迷你倉保留最終決定權。登記人已閱讀 此免責條例網頁 並同意「個人資料及私隱聲明」,及願意收取宣傳推廣資訊。
回到至尊迷你倉主頁:https://onestorage.com.hk
#運程 #洗邋遢 #開運 #年廿二 #迷你倉