Keep your children safe at home! Put the figures in the mini storage! |Children's Home|One Storage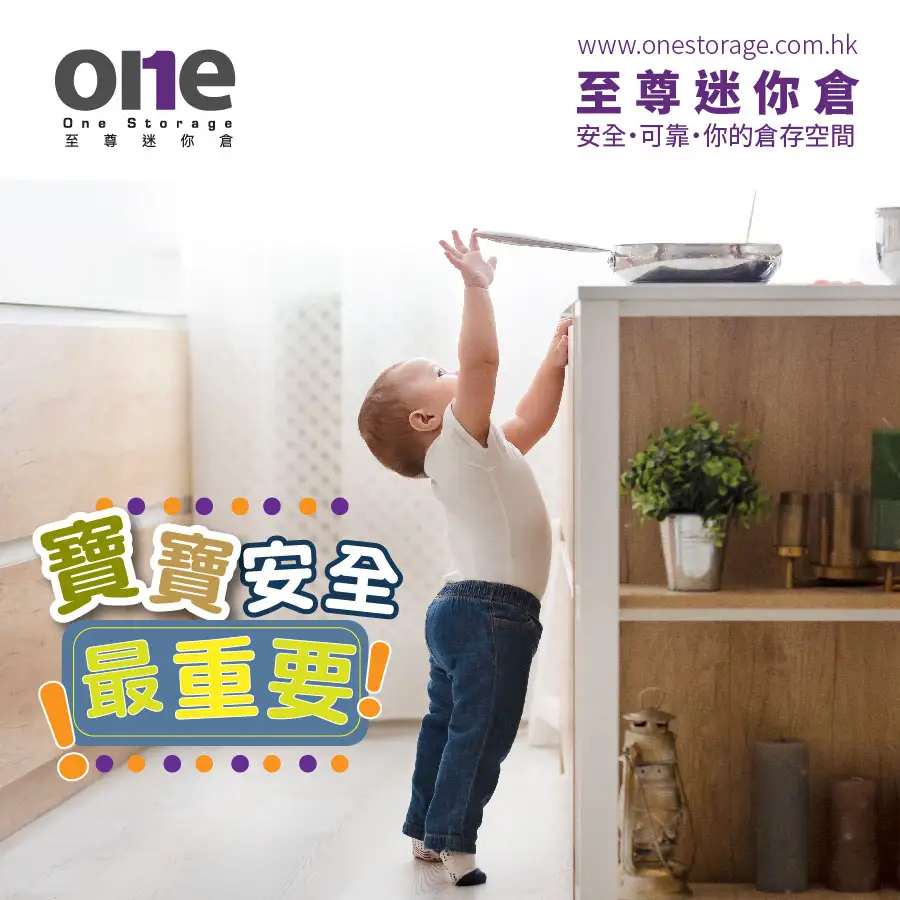 Children are the heart and soul of every parent, and they must be taken care of at all times, so it is important to arrange the design of the home so that they can grow up safely and happily. Here are some common home hazards for children.
Children left alone at home
Children of a few years old may not be able to recognise danger, and accidents can easily occur if no adult is around. However, parents should not only pay attention to home safety in advance, but also teach children the importance of avoiding accidents by teaching them the right safety tips at all times.
Exploring injuries
Children are often active and it is in their nature to run around and explore, but it is not uncommon for this to lead to falls and injuries from objects in the home. Therefore, it is a good idea to lay soft mats on the floor beforehand and not to place any fragile or heavy objects.
Accidental swallowing of small foreign objects
Children are very interested in small objects and will touch them or even put them in their mouths, which can lead to obstruction of the trachea or even choking in severe cases. Parents should not leave any small objects such as toys or small ornaments lying around and should keep them out of reach.
Living space is important for children's development, and many people nowadays have a habit of collecting model ornaments themselves. However, if you have young children, you may want to consider putting your models in mini storage to avoid the risk of this happening.
If you are in need of mini storage services, One Storage Mini Storage is the perfect solution for you. The stable temperature and humidity levels ensure that your items are in the best possible condition at all times, reducing the risk of moisture or deformation. Families with small children are not suitable for the time being, so by hiring a mini storage unit, you can provide a five-star home for both your children and your models!
-------------------------------------
Click to check our latest offer now
Talk to us: https://m.me/onestorage
-------------------------------------
✅ 24-hour easy access at any time
✅ 7x24 smart security access system
✅ HD security monitoring and alarm system
✅ Comply with latest Fire safety guidelines
✅ Constant temperature air-conditioning system
Hong Kong Island:
Siu Sai Wan | Chai Wan | Tin Hau | Kennedy Town | Wong Chuk Hang
Kowloon:
Yau Tong | Kwun Tong | San Po Kong
New Territories:
Kwai Chung | Kwai Hing|Kwai Fong | Tsuen Wan | Tsing Yi | Fo Tan | Tai Po | Tuen Mun
Express Whatsapp: https://cutt.ly/51188503
*Terms and conditions apply, please contact our staff for details.
*Terms and Conditions: Offer is subject to availability while stocks last. This offer is only applicable to new registered customers of Supreme Mini Storage. In case of any dispute, the decision of Supreme Mini Storage shall be final. Registrants have read this Disclaimer page and agree to the Personal Data and Privacy Statement and are willing to receive promotional information.