Figures spray equipment guide!|Toy and figures collection|One Storage|Mini Storage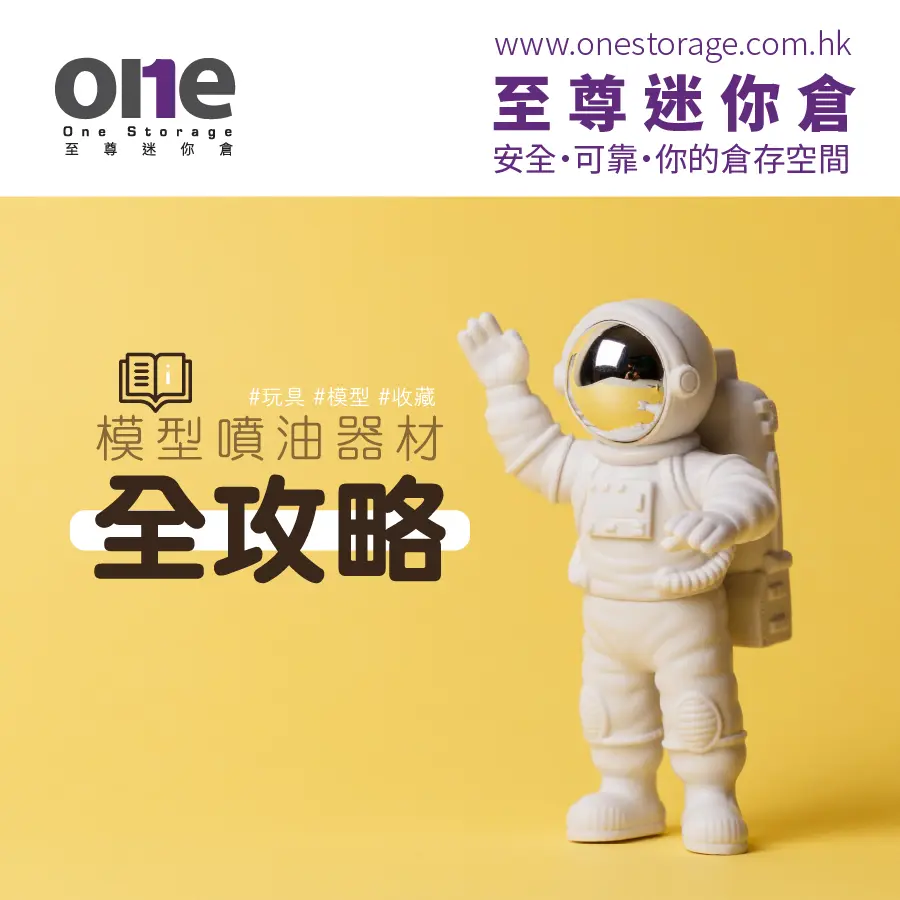 In recent years, we have more opportunities to stay at home, and many people like to make figures. When you see models made by different figures masters on the Internet, why are they always better than the ones you make? In fact, the figures that are generally made according to the manual and the basic process are "plain" figures, which are relatively simple and most of them cannot reach the appearance in the manual or on display.
If you want to go further, you have to step into the spraying section. Basically, the different shadows, colors and textures of the figures can be adjusted by spraying.
Air compressor
Many people think that the most important thing is the airbrush for spraying paint, but in fact, the air compressor, which can spray paint and adjust the pressure of spraying, is the most expensive part of the equipment.
The air compressor has different power, do not choose the industrial use, the general small art use is sufficient. You can also pay attention to whether it contains an air cylinder, air pressure adjustment function and water filter, etc. to cope with different weather and paint.
Airbrush
Of course, the airbrush is also the core tool, which is used to control the thickness and texture of the paint when spraying. The price of airbrushes varies greatly, and there are also different configurations, such as a panel type switch and a push type switch; removable and non-removable paint cups; and the ability to switch the diameter of the mouth, etc. It is important to know your needs and habits in order to choose a suitable airbrush for you.
Ventilator
When spraying paint, you should also pay attention to the environment and safety issues, because after the paint is broken up by air pressure, it will become residual particles floating in the air, which may cause discomfort if inhaled into the body! Therefore, it is best to spray the paint in an airy place with a set of sufficient horsepower extractor to remove the residual paint particles!


Interested in such advanced and serious figures making, but afraid of buying too much stuff and not having a place to put it at home? In fact, you only need to find mini storage to store the miscellaneous things you don't use at home, and it's not a problem to set up an oil spraying workbench at home! Come to One Storage to help you store your miscellaneous items!
If you want to display all your collectibles or toys at home, but you're stuck for space, One Storage can help you! We have a wide variety of locations throughout Hong Kong, with 40 stores to choose from! Plus, with One Storage's flexible lease arrangements and variety of storage types, you can easily rent whatever you need! You'll have the space you need at your fingertips!
-------------------------------------
Click to check our latest offer now
Talk to us: https://m.me/onestorage
-------------------------------------
✅ 24-hour easy access at any time
✅ 7x24 smart security access system
✅ HD security monitoring and alarm system
✅ Comply with latest Fire safety guidelines
✅ Constant temperature air-conditioning system
Hong Kong Island:
Siu Sai Wan | Chai Wan | Tin Hau | Kennedy Town | Wong Chuk Hang
Kowloon:
Yau Tong | Kwun Tong | San Po Kong
New Territories:
Kwai Chung | Kwai Hing|Kwai Fong | Tsuen Wan | Tsing Yi | Fo Tan | Tai Po | Tuen Mun
Express Whatsapp: https://cutt.ly/51188503
*Terms and conditions apply, please contact our staff for details.
*Terms and Conditions: Offer is subject to availability while stocks last. This offer is only applicable to new registered customers of Supreme Mini Storage. In case of any dispute, the decision of Supreme Mini Storage shall be final. Registrants have read this Disclaimer page and agree to the Personal Data and Privacy Statement and are willing to receive promotional information.