Autumn Home Expo 2022!|Home Storage|One Storage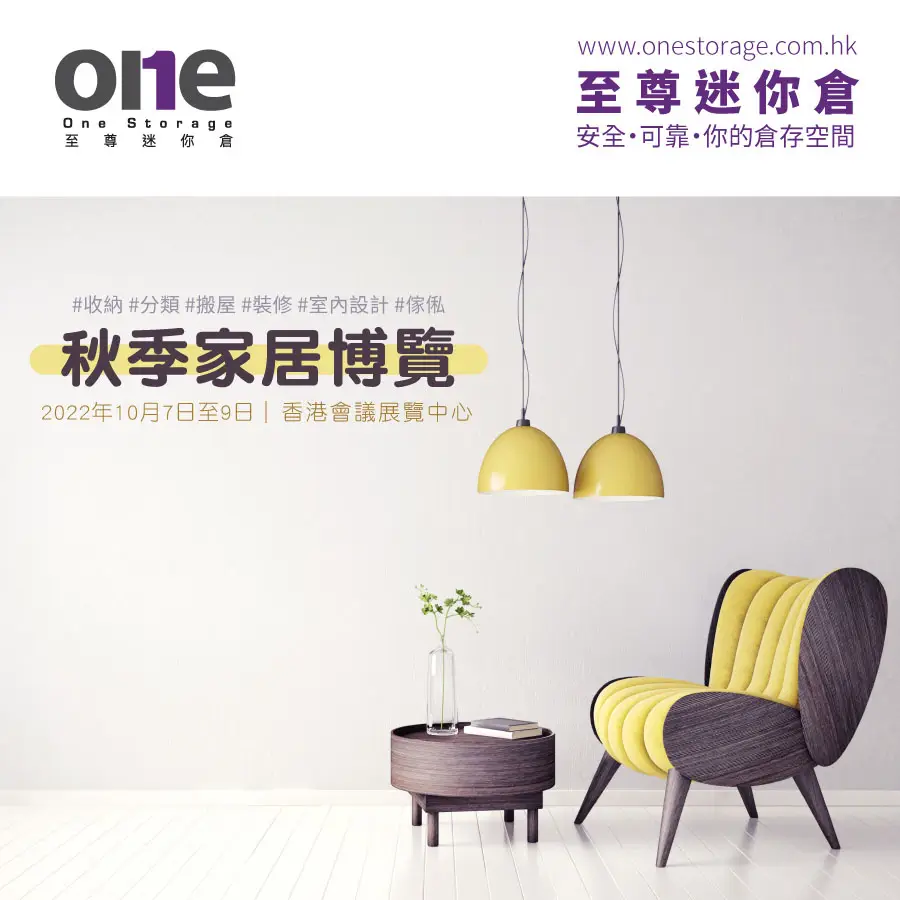 Home is a very important part of life, and after the Hong Kong Home Furnishing Expo in June every year, there will be the Autumn Home Furnishing Expo, which will be held from October 7, 2022 to October 9, 2022.
The Autumn Home Furnishings Expo will mainly showcase the mid-to-high-end consumer positioning of the move-in and renovation market, so those of you who are preparing to move into a new home and will soon be moving in and renovating can take advantage of this opportunity to learn more about the new move-in and renovation related products and services available in the market this year.
Meanwhile, if you are a friend of the industry, you can also use this platform to look for related business opportunities and get to know the industry and customers, so the public and the industry should gain a lot!
In this exhibition, there will be furniture, interior design, decoration works and building materials, etc. You can find all the brands, products and services related to home furnishing, design, moving in and decoration here!
A great and comfortable home requires not only excellent decoration and design, but also reasonable and effective storage methods and techniques.
Clear and effective sorting.
It's easy to clutter your home if you don't sort your items. By setting a category for all items, storing them and dividing them into different categories, your home will be much tidier.


Regular management.
If you wait until everything is piled up before you start tidying up, it is easy to give up because it is too difficult, so remember to tidy up regularly so that each tidy up does not take too long. Relatively relaxed, you will have more mind to do storage!


Return items to their original location.
Every time you take something out, put it back to its original place to reduce the risk of losing it and to make your home more tidy.


Count and manage all items properly.
It is important to do a good inventory of your belongings to reduce the chance of buying the same items over and over again, and to make the storage space in your home more valuable! And when you buy new items or replacements, you have to throw away the old and duplicate items to try to maintain the home objects do not increase!
Home is so important, is the starting point of everyone's life and the biggest haven, since this, must be well taken care of. But sometimes space is not something that can be created out of nothing. Even if there are countless ways to enhance storage space, the reality of the lack of space still makes the quality of life is tightly restricted. But did you know that there is an easy way to get more space? You can get more space by coming to us at One Storage.
We have One Storage all over Hong Kong, with a total of 40 stores to serve you at all times! Are you running out of space for different household items and clothing? In fact, you can put the items that you don't use frequently into One Storage, we have an air-conditioning system in each mini storage to maintain the humidity and temperature of the environment for a long time, so that all your items will not be affected by the environment and deteriorate!
-------------------------------------
Click to check our latest offer now
Talk to us: https://m.me/onestorage
-------------------------------------
✅ 24-hour easy access at any time
✅ 7x24 smart security access system
✅ HD security monitoring and alarm system
✅ Comply with latest Fire safety guidelines
✅ Constant temperature air-conditioning system
Hong Kong Island:
Siu Sai Wan | Chai Wan | Tin Hau | Kennedy Town | Wong Chuk Hang
Kowloon:
Yau Tong | Kwun Tong | San Po Kong
New Territories:
Kwai Chung | Kwai Hing|Kwai Fong | Tsuen Wan | Tsing Yi | Fo Tan | Tai Po | Tuen Mun
Express Whatsapp: https://cutt.ly/51188503
*Terms and conditions apply, please contact our staff for details.
*Terms and Conditions: Offer is subject to availability while stocks last. This offer is only applicable to new registered customers of Supreme Mini Storage. In case of any dispute, the decision of Supreme Mini Storage shall be final. Registrants have read this Disclaimer page and agree to the Personal Data and Privacy Statement and are willing to receive promotional information.