The 107th Hong Kong Wedding Festival and Autumn Wedding Exhibition|How much space is needed for wedding preparation?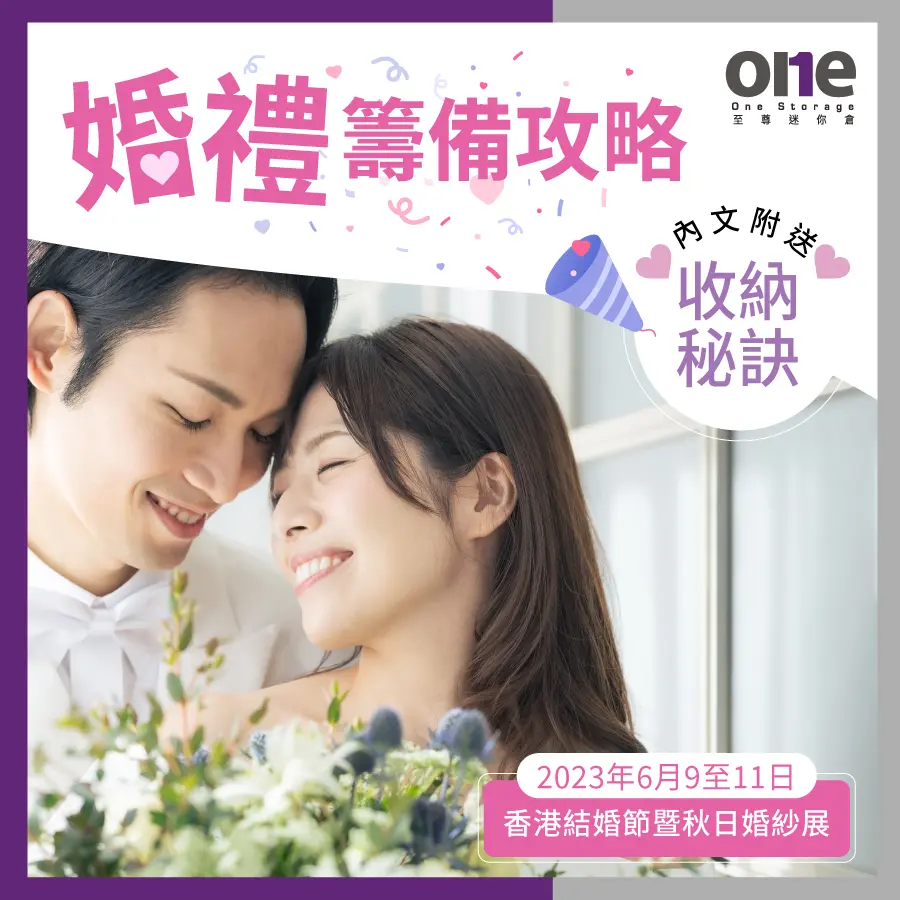 The 107th Hong Kong Wedding Festival and Autumn Bridal Fair will be held soon, providing a good channel for couples who want to prepare for their wedding to learn how to do the wedding and related services. In this article, I will provide some questions about wedding preparation and how to use One Storage to solve the space problem. Let's take a look together!
Table of Contents:
The 107th Hong Kong Wedding Festival and Autumn Bridal Show
Storage issues to be considered during wedding preparation
The storage space solution of One Storage
Top ten notes on wedding venues and decorations
Wedding life home space becomes small
Mini Storage Long Term Storage Solution
Mini storage short term storage solutions
Temperature Controlled Storage
Limited Time Offer
Other Related Articles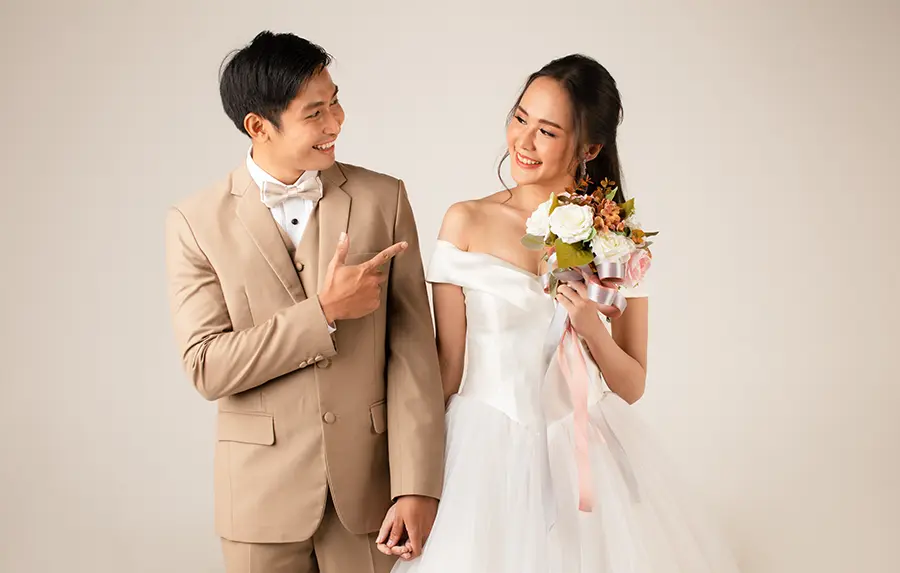 The 107th Hong Kong Wedding Day & Autumn Wedding Fair

The 107th Hong Kong Wedding Festival & Autumn Bridal Fair will showcase a wide range of services required for wedding preparation, such as wedding dresses, wedding photography and make-up of different styles. Couples who are preparing for their wedding will be able to find their favorite wedding dresses and related wedding services.
The 107th Hong Kong Wedding Festival and Autumn Wedding Fair Information
Date: June 9-11, 2023
Venue: Hall 1, Wanchai Convention & Exhibition
Opening hours: 12:00 noon to 8:00 pm
Admission: HK$20 per person (free for children aged 3 or below, same price for seniors aged 65 or above)
Ticketing Venue: Ticket Office, Hall 1, Wanchai Convention and Exhibition Centre
Storage issues to be considered during the wedding preparation process|One Storage

There are many issues that need to be considered in the process of preparing for a wedding. For example, the venue, clothing, makeup and gifts, and the need for storage space, all need to be planned and prepared in advance, many supplies occupy the home space, and after the wedding, two people living together, space naturally needs to be more flexible. Therefore, I will introduce you to the storage space solutions of One Storage, and hope that you will understand more about how to use mini storage to solve the problem of small storage space and miscellaneous items occupying space.
Storage space solutions|One Storage

One Storage is located in various districts and offers a variety of storage spaces of different sizes to meet the storage needs of different newcomers. In addition, we have a 24-hour monitoring system to ensure the safety of your storage. We also offer a variety of storage plans to meet your storage needs.
Top 10 things to note about wedding venues|Make the best use of mini storage

When preparing for a wedding, it is important to choose the right venue and layout plan. To consider the size of the venue, location, accessibility and other factors, but also according to their own wedding theme and style to choose the corresponding layout options. For example, if it is an outdoor wedding, you can choose a park or lawn with beautiful scenery, and with a simple and bright layout scheme, so that the wedding more romantic and natural. I believe there should be a lot of exhibitors in the Autumn Wedding Show who can provide you with the venue of your choice.
Budget: The cost of the wedding venue is expensive, before starting any preparations, you should confirm your needs and budget with your partner, it is not advisable to avoid making changes at a later stage and wasting unnecessary expenses to ensure that you will not overspend.
Venue: The location, size, facilities and price of the venue. Make sure the venue can accommodate your wedding plans, such as the ceremony, dining and number of guests.
Set-up: Choose the right set-up service for your wedding theme and style. This includes flowers, lighting, music, etc. Be aware of whether the venue hirer includes decoration services and whether there are additional charges for hiring decoration services.
Timing: Everyone in Hong Kong is looking for a good date and time, so make sure your wedding date and time are confirmed as early as possible and book your venue and decoration services in advance, so there is less hassle.
Food and catering: Food and catering services to suit your budget and taste. If you have special requirements, such as vegetarian, gluten-free or dairy-free products, etc., you must also check with your guests and make arrangements with your caterer early.
Number of guests: Men and women and their parents, the total number of people have their own opinions, this should be confirmed with the family of your wedding guests, so that you can choose the appropriate venue and layout, if necessary, rather than streamline the guests, not over-reserved.
Safety measures: Consider the safety measures of the venue, including fire prevention measures, emergency evacuation plans and medical first aid, and beware of friends and relatives who are avid wine tasters, news of fainting from binge drinking on site is also heard from time to time.
Green wedding: If possible, try to choose environmentally friendly and sustainable decorations and dishes to reduce the impact on the environment, such as the popular abolition of shark fins in recent years, can also be considered.
Preparation and organization: Preparing for the wedding, the workload can be no less than the execution of a large project, to keep organized and ready to work. Prepare a good schedule and list, check and update it in time, and maintain good communication with the brother group, sister group and related suppliers.

Married life home space becomes small, the most important mini storage to help

After the wedding, the couple will move to a new stage of life, living together, the two of them living together as one, of course, need more storage space. New furniture, appliances and household items, wedding gifts and souvenirs also occupy part of the space. If you don't have enough storage space in your home, you need to consider using external storage such as mini storage to better manage your household items, especially those souvenirs that are rich in souvenir value but don't need to be used all the time, mini storage can help you keep your home tidy and comfortable.
In addition to solving the storage space problem, One Storage also provides different storage solutions to meet different storage needs.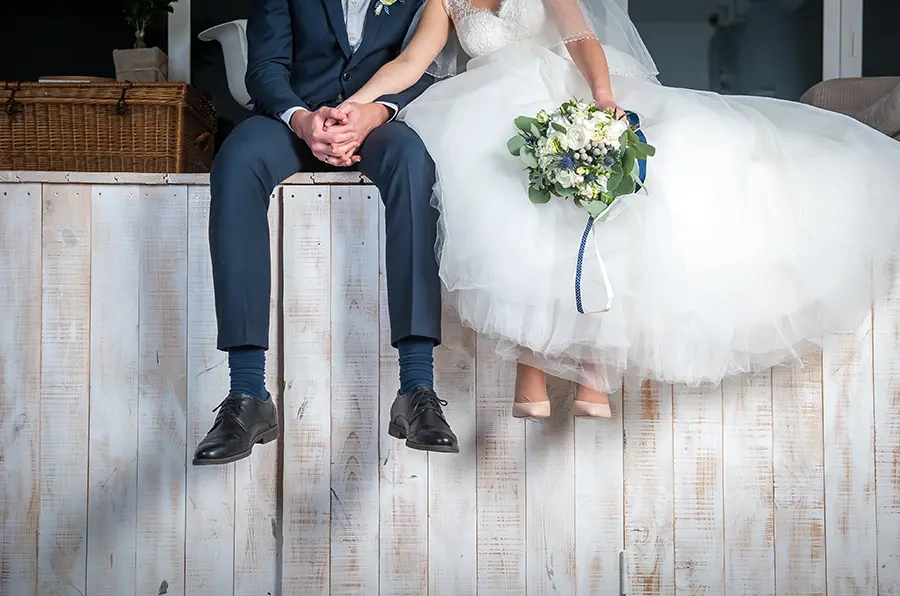 Mini Storage Long Term Storage Solutions

For seasonal items or valuables that are not needed for a while, long-term storage solutions are a great option. One Storage offers a variety of long-term storage solutions that allow newcomers to take better care of their belongings.
Mini Storage Short Term Storage Solution

If you only need to store some items for a short period of time, such as wedding gifts or wedding decorations received before the wedding, the short-term storage solution is a very good choice.
Temperature Controlled Storage

Some items need to be stored under specific climatic conditions, such as wine or gifts used at the wedding reception. The temperature and humidity of the room is controlled 24 hours a day to ensure the quality of the stored items. It is a perfect space for storing red wine. If improper storage causes the wine to spoil, it will make the wedding party unpleasant.
Limited Time Offer

Now, One Storage is offering a limited time offer! We offer you the best storage solution for your wedding storage at a more favorable price. Bigger space, better life! Contact our customer service team now to find the right mini storage solution for you! We hope that the couple will have a memorable wedding reception and wish them all the best.