No more nano flats? Tips for getting bigger space in the Nano Flat! |Living Space|One Storage|Mini Storage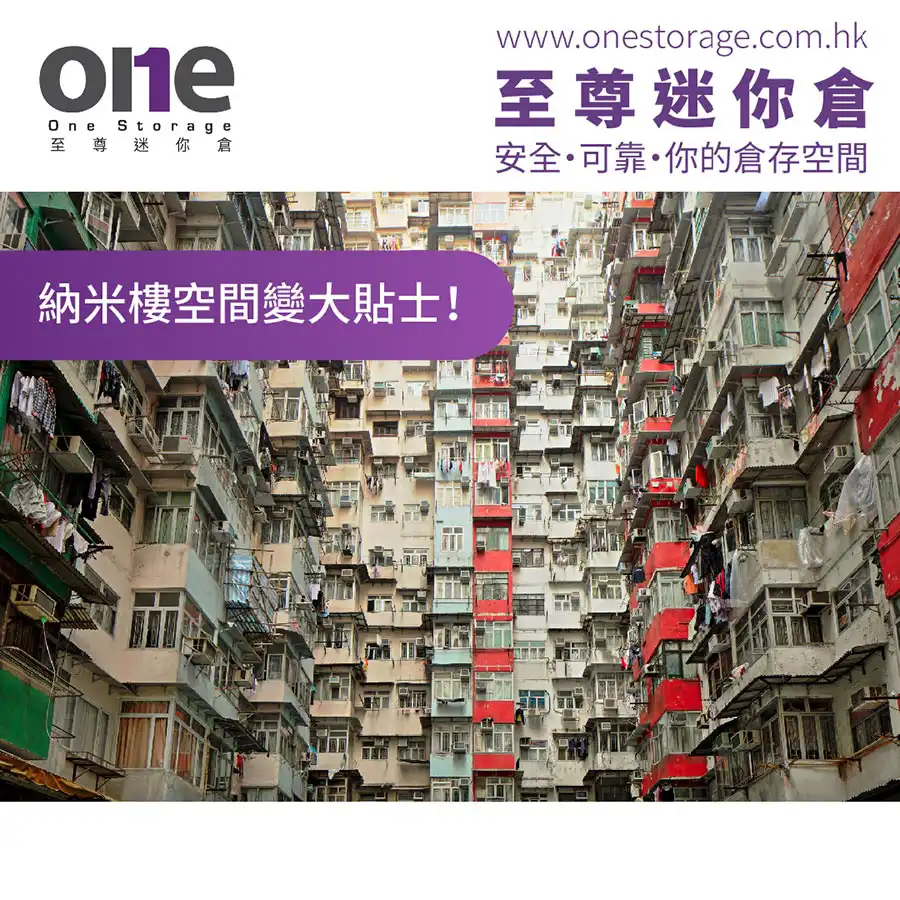 In recent years, I have often heard about Nano Building, which may be a major feature of life in Hong Kong. There was even a TV station that made a special program to discover the story of Nano Building and the life of the owner! It is said that the Nano Building in Hong Kong has some very special design plans, such as open-plan units without separate rooms, open-plan kitchens, or floor-to-ceiling glass and other configurations, which are amazing.
Earlier, the government announced that it would introduce minimum unit area requirements to reduce the appearance of nano buildings. It may be a few years later that nano buildings will become a thing of the past. However, no one knows what will happen in the future, but there are many friends who live in smaller flats. Is there any way to increase the sense of space? Take a look at the tips below!
Space-enhancing tip 1 - open-plan bedroom
Many nano buildings will have designs such as open kitchens, but in fact, in addition to the open design of the kitchen, the bedroom can also use the open design! For example, use glass sliding doors as a separation, or use the popular low cabinet separation method to act as a separation between the hall and the bedroom!
Tips for getting bigger space 2-Installation platform in the living room
Nowadays, many people will make a platform bed in the bedroom to help with storage. But if the bottom of the house is high enough, you can actually try to set up a platform in the living room, plus the thoughtful design and configuration, it has features and can help storage! However, it is difficult to take out the items after they are put into the platform bed, so they can only be used for seasonal clothes or some really seldom used sundries. However, if you build a platform in the living room, it will not be so troublesome to take out the items, and you can store some more used items!
However, space is indeed limited, and no matter how good the design is, it cannot be created out of nothing. However, there are more ways to live than difficulties. There are actually many good ways to want more space. For example, renting a mini storage is a good way for many friends to deal with the problem of insufficient space!
One Storage Super Mini Storage has branches in different parts of Hong Kong, with a total of 37 stores serving you! The space calculator on the official website is more convenient for you to calculate the warehouse type you need, and you can help you find the required warehouse type at any time! Running out of space at home? As long as the household clutter is stored in the mini storage, you can clear more home space! Store the clutter, make room for life, and enjoy your time at home!

The method is always more difficult than the difficulty, don't panic if the space is insufficient! One Storage Extreme Mini Storage has a limited offer!
-------------------------------------
Click to check our latest offer now
Talk to us: https://m.me/onestorage
-------------------------------------
✅ 24-hour easy access at any time
✅ 7x24 smart security access system
✅ HD security monitoring and alarm system
✅ Comply with latest Fire safety guidelines
✅ Constant temperature air-conditioning system
Hong Kong Island:
Siu Sai Wan | Chai Wan | Tin Hau | Kennedy Town | Wong Chuk Hang
Kowloon:
Yau Tong | Kwun Tong | San Po Kong
New Territories:
Kwai Chung | Kwai Hing|Kwai Fong | Tsuen Wan | Tsing Yi | Fo Tan | Tai Po | Tuen Mun
Express Whatsapp: https://cutt.ly/51188503
*Terms and conditions apply, please contact our staff for details.
*Terms and Conditions: Offer is subject to availability while stocks last. This offer is only applicable to new registered customers of Supreme Mini Storage. In case of any dispute, the decision of Supreme Mini Storage shall be final. Registrants have read this Disclaimer page and agree to the Personal Data and Privacy Statement and are willing to receive promotional information.